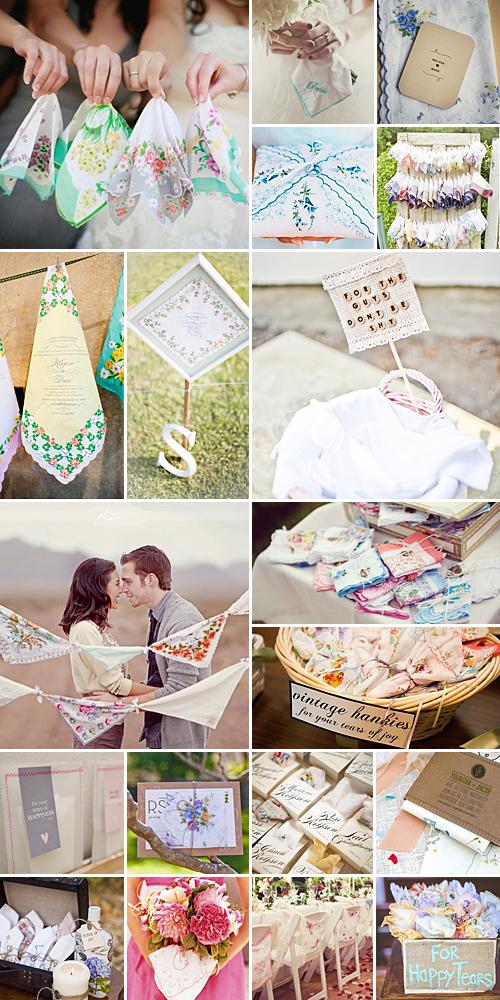 Whether it's to wipe away tears of joy or dab at a touch of smudged lipstick, hankies are a very handy must-have for every wedding day. With the return of vintage, handmade handkerchiefs have made a stunning comeback, in the fashion realms of both gentlemen and ladies.
Aside from the practicality of it, handkerchiefs bring a certain air of regal elegance to the moment. Back in the day, ladies everywhere would whip out their beautifully adorned handkerchiefs to wave over a waiter or dab at their leaking tear ducts, and we can't imagine a more sophisticated carry-along. Let's look at ways to make it part of the most special and tearful day of your life:
If you're nifty with needle and thread, embroider each guest's name on a handkerchief – a stylish and personal yet affordable guest favour.
Place a small pack of tissues on each guest's seat at the ceremony venue, and be sure to slip one in your and your bridesmaids' purses.
We love the idea of having your wedding invitations or church programmes printed on fabric handkerchiefs!
Some hankies are just too beautiful to hide away! Turn them into stunning vintage bunting or a cute little bridal zipper purse.
Surprise your mother with a handmade mother-of-the-bride handkerchief as a way of saying that you'll always be around to console her, even though you're married now.