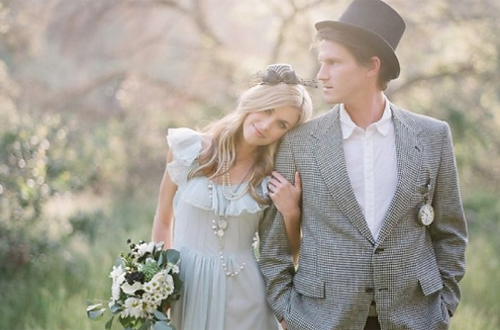 Back in the first half of the 20th century, ladies and gents wouldn't be seen dead without their hat on, even when dashing to town for a quick shop. Ladies looked so elegant, and men looked positively dapper in their headwear. Formal hats are not commonly worn today. Wedding guests do sometimes make the extra effort and don a gorgeous hat, and it always gives them that really dolled-up and elegant look. However, it is very rare that the bride and groom themselves will wear hats. When the right hat is worn for the right style of wedding, it can look absolutely stunning.
There are so many different hat styles for men and women. Choose one that enhances your theme and suits you, as an individual. Here are some ideas:
Ascot or beret – these two hats are both flat. The Ascot is hard, while the beret is soft. This is fabulous for a wedding that is reminiscent of a 1920's theme, or is a relaxed, outdoor event.
Cowboy or Stetson – this is a fun option and is appropriate for those that have travelled to areas in which they wear these hats, or for a wedding that will be spent in the sunlight.
Peak / baseball cap – this is only really going to work if there's an inside joke attached to this style of hat or if you really do plan to have the most casual of weddings.
Top hat – such a formal option is cute and ultimately sexy on men and women alike.
Bowler – we love this old-fashioned rounded option. There are few men who can't carry this off to perfection.
Cloche – this ladies' hat is perfect for a 1920's theme.
Fascinator – ladies look gorgeous in fascinators, which can easily replace a veil without taking away from the formality and prettiness of your attire.
Homburg – this is a semi-formal hat for gents.
Party – for some of your photographs, why not wear colourful party hats and reminisce on childhood innocence.
Peaked cap – usually reserved for grooms that are in the military, nothing could be sexier if you like a man in uniform.
Take a look at the different types of hats you could incorporate into your wedding day.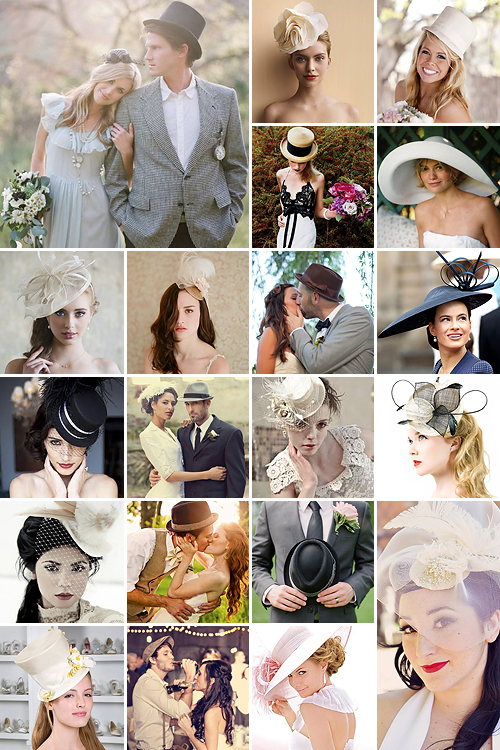 For more ideas on Wedding Hats or to check out the original photos displayed above and their credits, make sure to check out our Wedding Hats Pinterest board!