Wedding Socks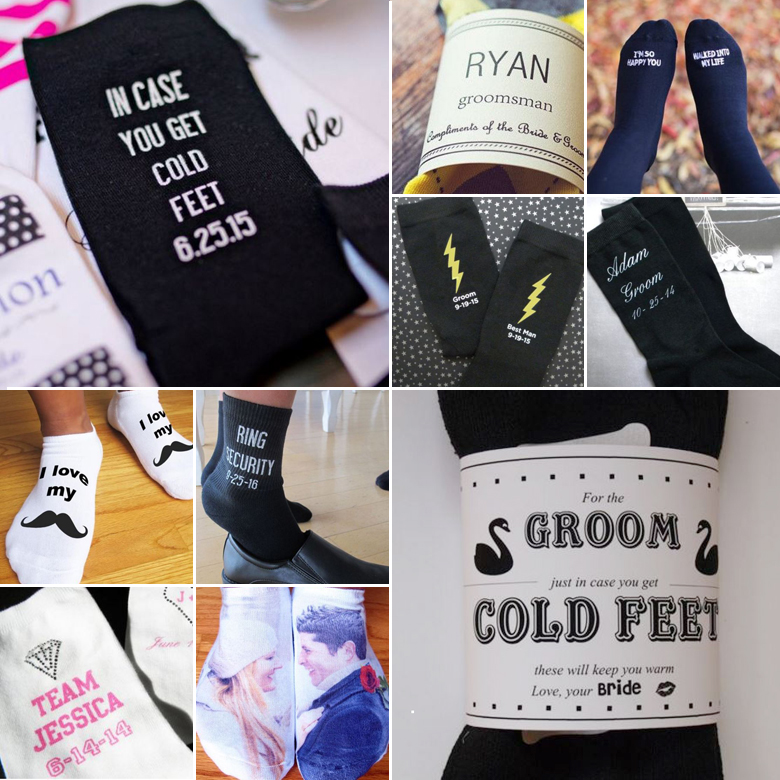 Who would ever have thought that SOCKS of all things could be such a fantastic gift, wedding favour or way to ask your groomsman / best man to be apart of your big day? Getting creative with your wedding socks makes for great photography, extra chit-chat and laughs.
If you're looking for ways of getting creative and doing something unique, here are some ideas for wedding socks:
Give the bridal party (who are wearing socks on the day) a pair of their own socks with their wedding role printed on the sock e.g. Groomsman, Best Man, Ring Bearer, etc.
Give socks with the bride and groom's name and date to your guests as unique wedding favours.
Have your men in the bridal party where a funky style of sock which is polka dot / strips and colourful – this makes for great photos!
Give the groomsman / best man box which includes a pair of socks when asking your friend / family member to play a specific role. Give a pair of socks, T-shirt and
Brides: Send a gift along with a friend to your groom with a special message wrapped around the sock e.g. For the Groom, Just in case you gët COLD FEET, these socks will keep you warm."
Bridesmaids: For the hen party or bachelorette, have some printed socks make with the TEAM [BRIDENAME] and the date as a keepsake of your so-called last night together before the bride is no longer a single lady.
Wedding Sock Products Available
The requested RSS feed cannot be loaded at this time. This XML document is invalid, likely due to invalid characters. XML error: Undeclared entity error at line 22, column 147
Original images and their credits available on Pinterest