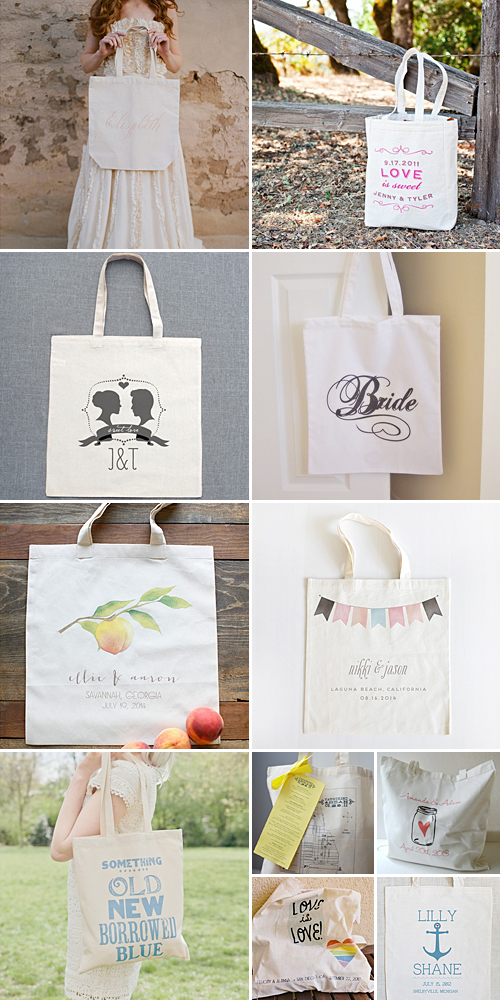 The girly and creative worlds are in a complete tizzy about tote bags and with good reason! These handy shoppers have become the most handy and desirable gift since personalised wooden spoons, candy buffets and hot chocolate-on-a-stick.
Tote bags make for excellent gift favours for female guests and, when ordered in bulk, won't cost you an arm and a leg. Alternatively you can take it a step further by spoiling each of your honorary guests – bridesmaids, mother of the bride and groom's men – with a bag full of goodies. Think body care products, fresh produce for the Saturday night "potjie" or a variety of handy odds and ends.
As an added bonus, tote bags are easily customisable – just ask any printer or designer. This gives you the freedom to have your wedding bags branded with anything from your wedding "logo" or monogram, to the big date or a personal message. However do bear in mind that your guests will want to use their slings after the wedding, so keep it simple and clever.
Lastly, don't forget to keep one for yourself – ideal for holding all your "Big Day Necessities" like makeup, hair accessories, extra pantyhose and that sort of thing. And why not have your lovely entourage customise your tote for you? All it takes is a fabric marker and words of inspiration from your wing-girls, written on a bag to give you strength and courage to carry along on the journey ahead.
Original images and their credits available on Pinterest.