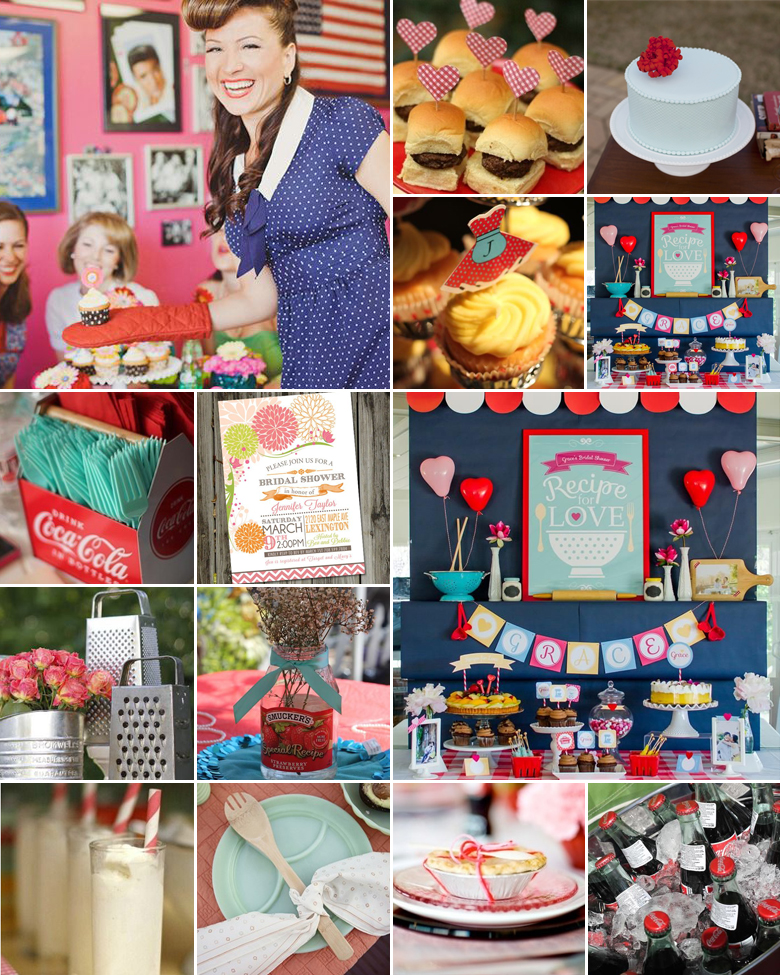 What better way to celebrate your impending wife-hood than with a retro themed bridal shower? To get the perfect blend between stylish and kinky (especially when transitioning from the kitchen tea to the bachelorette), think 50s housewife meets diner waitress on roller skates. We're talking big hair, 50s housewife attire, diner style eats, frilly aprons and ruby red lips – to name but a few.
In terms of the colour scheme, cherry red, candyfloss pink and tiffany blue are all absolute musts, with polka dots popping up everywhere. Draw inspiration from retro illustrations and curly typefaces when designing the invitations and other stationery elements, and also have big colourful or black and white posters and pictures printed for the walls and placemats.
Now let's talk food! The bridal shower is the one day when the wedding diet can be put on hold, so opt for classic American retro diner eats and treats like big bowls of jelly, mini burgers, pigs in blankets, devilled eggs, apple pie, sloppy joes, tall pink milkshakes (with a kick, of course) and messy hot dogs. Serve brightly coloured drinks in retro Coca-Cola bottles, adorned with striped straws, and let's not forget the tea!
Rent a jukebox from a local entertainment store, or fire up gran's old gramophone player. Recycled LPs are also excellent for serving pies and other delicious bites, while retro crockery and tea pots can be used on the tables or as flower vases. We also love the idea of using recycled cake and soup cans as part of the décor.
Original images and their credits available on Pinterest