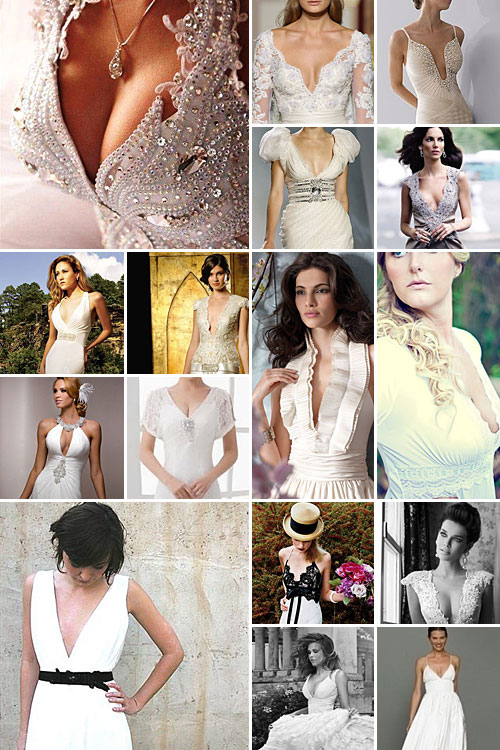 The oh-so famous line "if you've got it flaunt it" certainly summarises this topic! Your wedding day is the one very important occasion to show off your femininity, which means making the most of the cleavage you've been given and ensuring that "the ladies" rise to the occasion.
Here are a couple of tips for doing just that:
The biggest key to great cleavage is good support, whether in the form of a quality bra, corset or body shaper. When shopping for underwear, try to look past the lace and adornments and ask yourself whether your support of choice is enough to keep your bust line looking perky all day long.
Make-up is an excellent way to create the illusion of good cleavage. Simply choose a base that's a shade darker than your natural skin tone and apply it along the cleft between your breasts to create a shadow.
Another option is to dust shimmer powder along the outlines of your cleavage as this will highlight your bust when the light catches it.
Pay attention to your posture. Never slouch, stand tall – confident and aware of your femininity with your chest out as if you are the queen of the country.
Apply a light swipe of antiperspirant between your breasts and blot it dry before applying powder to ensure that you look fresh and stunning throughout the day.
By wearing a dress with a slimmer waistline, an hourglass shape is created which automatically enhances your cleavage. A corset is an excellent way to achieve just this.
Simple arm and chest exercises like push-ups and pull-ups are guaranteed to give your cleavage that natural lift, so start working on this a couple of weeks before the wedding.
Ensuring that the bodice of your dress fits perfectly is essential for creating a look that oozes va-va-voom. Even if you're not wearing a custom designed dress, it's important to still have the bodice altered to fit your torso like a glove.
If you're small breasted, consider wearing a lifting self-adhesive bra. Just be cautious of perfume, perspiration or deodorant that might make the bra shift.
To draw the eye to your cleavage, choose a dress that's adorned with fine detail like rhinestones or lace around the top or wear a necklace that lures the eye downwards.
Original images and their credits avialable on Pinterest