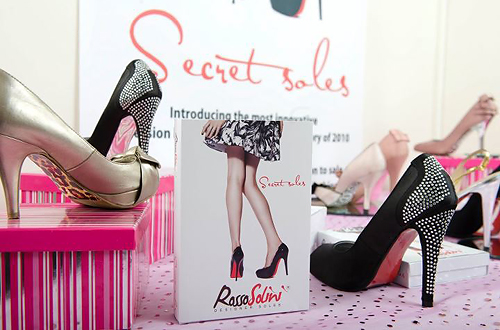 We all know how shoes, and especially heels, can make us feel absolutely fabulous.
Have you ever wanted to add a little Va Va Voom to your favourite pair of heels but just didn't know how. Ever though "How can I add a little something special to my outfit?" Ever wanted to get a unique designer look for your heels- like that classic red sole?
Now you can with Rosso Solini designer secret soles. Rosso Solini is an innovative and affordable product which allows you to add a splash of colour, a funky print or a little bit of bling to the instep of your high heels, instantly giving you a unique and fashionable look.
Perfect for adding something special, glamorous and fun to your brides maids outfits; or use Rosso Solini light blue soles for that "something blue". Better still go all out GLAM with a set of Glitzsolini soles and sparkle during your first dance.
Simply clean the soles of your shoes, and apply the Rosso Solini stickers, and Voila, an instant up-vamp for your heels. Check out this You Tube link and see how easy it is to apply your secret soles.
Rosso Solini is now available in South Africa in selected colours and prints. Prices range from just R65 for plain colour single sole packets, and R75 for print single sole packets. A full make over kit including a single set of soles, a re-useable hobby knife to help you cut your secret soles, and a wipe to clean your shoes, are available in selected colours for only R99. Glitzsolini range available in Red, Silver and Gold cost R165.
Contact Renee for more details or visit the Rosso Solini page on Celebration.co.za!