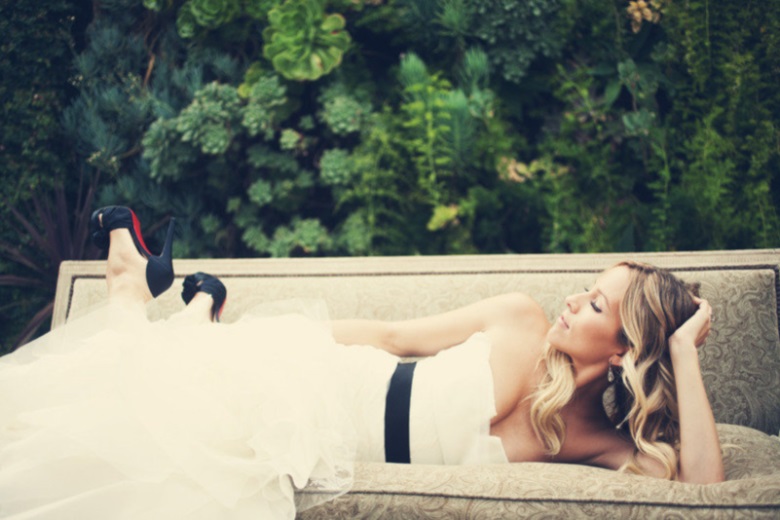 Black and white has to be the world's most classic colour combination. Still, many brides feel nervous of introducing this colour (often used as a symbol of mourning) into their day of celebration. In recent years, though, black and white weddings have become more popular. There is no better way to create a fun and glamorous twist to your outfit than to sneak a pair of gorgeous black heels under the white gown. In fact, it allows a bride that may be hesitant to go too far away from the traditional to introduce this sense of fun and flair without having to commit to too much.
One of the reasons black shoes can work very well under a white dress is that there is not much to a strappy black heel. Should you decide on black knee-high boots, on the other hand, these will become the feature of the outfit. Still, black heels with diamante or jewel detail retain all of the elegance, romance and beauty of the special day. In fact, these added decorations can actually add to and enhance the style and glamour of your dress, rather than taking focus away from it.
Another secret to their success as wedding shoes is that black matches everything. As fashion moves ahead, many brides are drifting away from the traditional white dress and adding splashes of colour, different textures, and even very different styles to their outfit. It is often difficult to pair these less conventional trends with an appropriate shoe. Enter the classic black heel.
Of course, the entire outfit needs to work with the overall theme and vibe of your wedding day. This theme is carried across in the colours you choose, the décor of the wedding venue, the music, flowers and so on. A modern glam-rock style wedding just calls out for a stylish pair of funky, feminine black shoes, as does a wedding with a fantastical, fairy-tale feel. In addition, black shoes are particularly versatile (more so than pink or red shoes, for example). Lace, buckles, beads and bows can make your shoes edgy, classic, pretty or 'schoolgirl'. Black and white polka dots are the ultimate in fun accessories, and would be perfect in reflecting a bride's playful personality. It is also important to remember that these styles can be worn again, which is usually quite difficult to say of a more traditional white shoe.
Black shoes can be emphasised and complimented by other black accessories or black features on the wedding gown itself. In fact, shades of black, grey and charcoal can be used very effectively to create a chic, novel outfit. Black belts, brooches, jewellery, hair pieces and even layers of black netting under the skirt can look absolutely stunning while never negotiating on the classical style of the dress. Smoky eye make-up finishes this romantic look off perfectly.
Shoes need not retain the "white satin" style of yesteryear. They can be used to make a statement, introduce an element of fun and be a feature in otherwise traditional wedding photographs. Bridal couples with a sense of adventure have opted for glittered platform disco heels, biker boots, floral wellingtons and even neon-coloured sneakers. Black shoes are merely an expression of personal style and a statement of classic elegance.
Photo Credit: www.runningwithheels.com