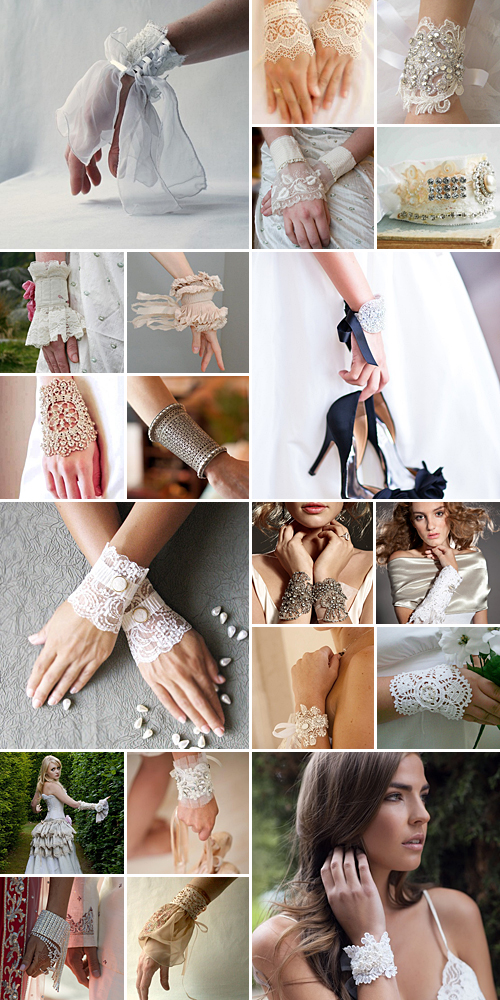 No, we know what you're thinking, but we're not talking about that kind of cuffs*. Wedding cuffs are feminine wrist adornments that can really be considered glorified bracelets – bold, striking and chunkier than a normal wrist adornment. Cuffs are best worn by brides with slender wrists and, because they make such a bold statement, they should be paired with simple detail-free gowns.
Contemporary: Opt for a metal cuff whether it be sculpted out of gold, silver or bronze.  With imagination being the only limit, jewellers can create spectacular custom designed cuffs adorned with patterns, monograms or the like. To push the wow-factor through the roof, these types of cuffs are best complemented with a statement necklace of similar style and colour.
Romantic: Play around with soft feminine fabrics such as lace and silk to create a fitted fabric cuff to match your dress detail. If you're on a tight budget, this is certainly the cuff for you – simply pop in at your local fabric store and ask for lace ribbon or stretchy lace to make your own.
Classic: Here we're talking about the timeless elegance of pearl, diamonds and other precious stones. While a full-on jewel cuff can be exquisitely striking, you also have the less costly option of adorning a lace or fabric cuff with a couple of these gems.
Statement: While all cuffs generally make a statement, there's nothing quite like a small splash of colour to stand out against a pearly white gown. Consider tying a coloured ribbon to the cuff, adding coloured stone to the design, or incorporating a flower or three to really give it that touch of colour finesse.
Aside from the type of cuff you choose off the above-mentioned list, you can also play around with the desired length of the cuff. While some brides prefer a 5cm cuff, there's no reason why you can't push the boundaries with a full forearm cuff or even one that drapes softly over your hand.
* If you'd like to spice up your marriage or wedding night with that kind of cuffs or other bedroom antics, look no further than www.g-school.co.za.
For more Bridal Cuff Ideas, the original photos above and their credits, make sure to check out our Cuffs Pinterest Board!