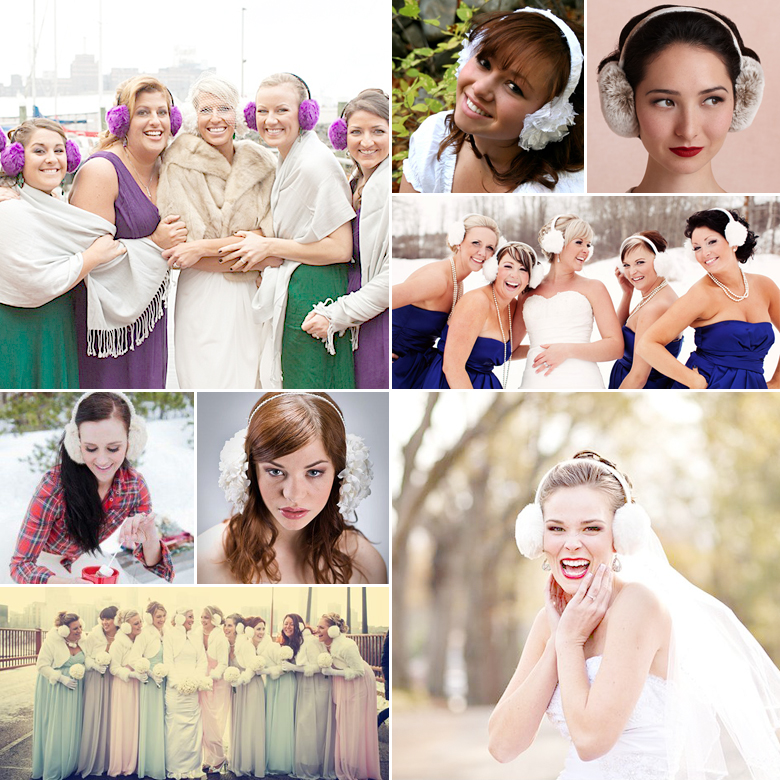 Winter weddings are truly wonderful and whimsical, unless of course your ears are frozen to the point where you can't even hear hubby say the crucial "I do". These days, earmuffs aren't solely reserved for kiddies anymore and can make a stylish and charming addition to just about any outfit, be it male or female. So if you're planning a winter affair, be sure to "earmark" this post:
Decorate your earmuffs with fresh or fabric flowers to match your bridal bouquet and make a boho chic statement. Ask your florist to advise you on which flowers are most appropriate for this purpose.
Complement your muffs with a matching warm and snuggly wrap, cardigan or furry pashmina.
If fur isn't really to your liking, consider earmuffs decorated with lacey frills or rosettes.
Wear colourful earmuffs to add a pop of brightness to your bridal ensemble. These can either match your wedding colour scheme or bridesmaids' gowns.
Have your earmuffs embroidered with your new initials or your newly earned "Mrs" title.
Surprise hubby with a matching pair of muffs so that you can both sport a pair on your photo shoot.
If you aren't too keen on the idea of traipsing down the aisle with muffed ears, add it to your bridesmaids' ensembles for a touch of cuteness.
Spoil guests with earmuffs as guest favours! Be sure to give it to them at the start of the ceremony so their ears are warm and they don't miss a word.
Original images and their credits available on Pinterest