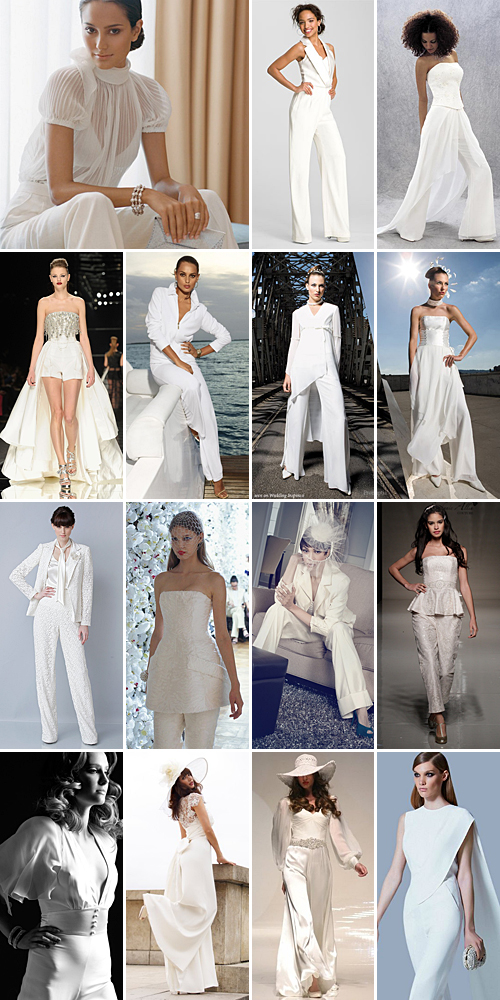 If you've clicked on this post, it means that you're in the mood to shake things up on your wedding day, starting with the traditional wedding dress. Bridal pants are becoming increasingly popular on the international fashion front, especially since trendsetters by the likes of Beyoncé and Charlize have started strutting their stuff in sexy crisp white pant suits. So if they can pull off on the red carpet, then who's to say you can't pull it off on your way down the aisle?
Pant suits are best worn by brides with strong personalities, a feel for current contemporary fashion and the confidence to wear it with flair. With its strong and slightly masculine appeal, most men find a perfectly tailored pant suit irresistible, while others feel that it's too masculine and get somewhat turned off by it. The last thing you want to do is don one when hubby falls in the latter category. So before deciding on a pant suit, find out what your better half's opinion is on this statement attire, without giving your game away.
If you're generally not a dress-wearing type, then bridal pants is definitely worth your careful consideration. After all – if husband-to-be fell in love with you as a pants person, then it's a pants person who should come walking down the aisle. Furthermore, if you're getting married in a later season of your life or for a second time around, you really can't go wrong with a pair of flattering bridal pants.
In case you're somewhat torn between dress and pants, why not change out of your wedding dress and into a pantsuit for the reception? Not only will the jaws drop, but you'll be comfortable enough to dance like there's no tomorrow.
For more Bridal Pants inspiration, the original photos above and their credits, make sure to check out our Brides in Pants Pinterest Board!