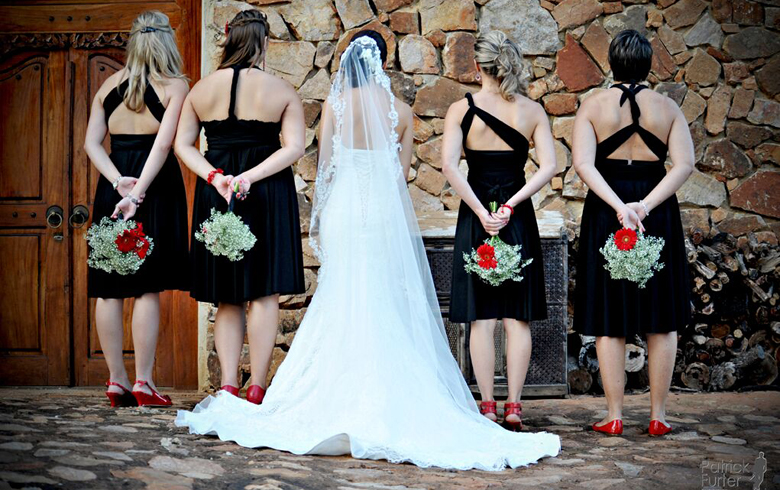 Finding the perfect bridesmaids dress to suit each of your bridesmaids figures and to match your wedding colours or wedding theme is like trying to find a needle in a haystack… you would think impossible!
Today we bring you the facts of why the Infinity Bridesmaids Dress is the perfect Bridesmaids dress that suits every figure bridesmaids, comes in over 55 colours, is manufactured here in South Africa to size and colour choice, and most importantly is affordable!
Here are 5 reasons why the Infinity Dress is the perfect bridesmaids:
It's Affordable
A bridesmaids dress should be affordable – there's no reason why looking good should break the bank. The Infinity Dress is custom made in Cape town South Africa giving you a dress of great quality that will suit your budget.
It is a flattering dress for all bridesmaids
The Infinity Dress is made from the highest quality fabric with a full flare cut, making it flattering for every body type. We offer custom made Plus Size Bridesmaids Dresses at no extra charge, making sure your Plus Size Bridesmaids look and feel beautiful!
It is Versatile!
The Infinity Dress can be worn in over 27 different styles to suit any wedding or special occasion. From the Fancy Winelands Wedding where you would choose a Vintage Lace Infinity Dress and add bling with a brooch. If you are going for the casual Beach Wedding, you can choose the Knee length Infinity Dress and add have it wrapped to suit your style.
Wide Range of Colour Options
You'll be surprised at the range of other colours that can work for evening functions and weddings, especially when you want to stand out in the crowd. Infinity Dress South Africa has over 55 gorgeous colours for you to choose from and we make matching mens ties or bow ties too!
It's Reuseable
The Infinity Dress is that magical dress that every girl needs in her closest.
Given it's made from stretch fabric, regardless of whether you loose or gain over the years this gorgeous dress will still fit you perfectly. And, it's suitable for pregnant bridesmaids too! After your Wedding Day, your bridesmaids can wear their Infinity Dress again and again and AGAIN!
So, in summary, the Infinity Dress is:
Affordable
Highly customisable – it can be styled it up to 27 different ways
Flattering
Reusable
Looks absolutely gorgeous on every shape and body type
Available in over 55 gorgeous shades
Available in knee length, cocktail length, and evening length.
The Cocktail Length Infinity Dress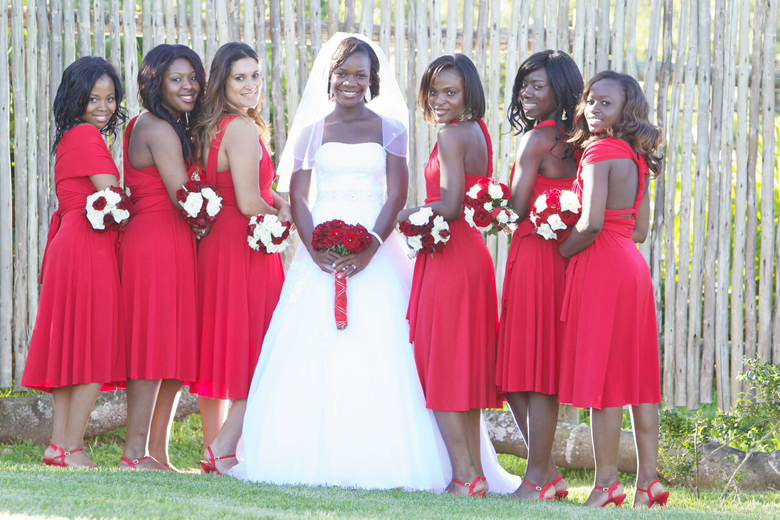 Our cocktail length evening wrap dress is a great item to have in your wardrobe. You can dress it up with a pair of cute heels, or down with some pretty pumps. These dresses are so versatile you can style them up to 27 different ways. They're also available in over 55 beautiful colours.
The Evening Length Infinity Dress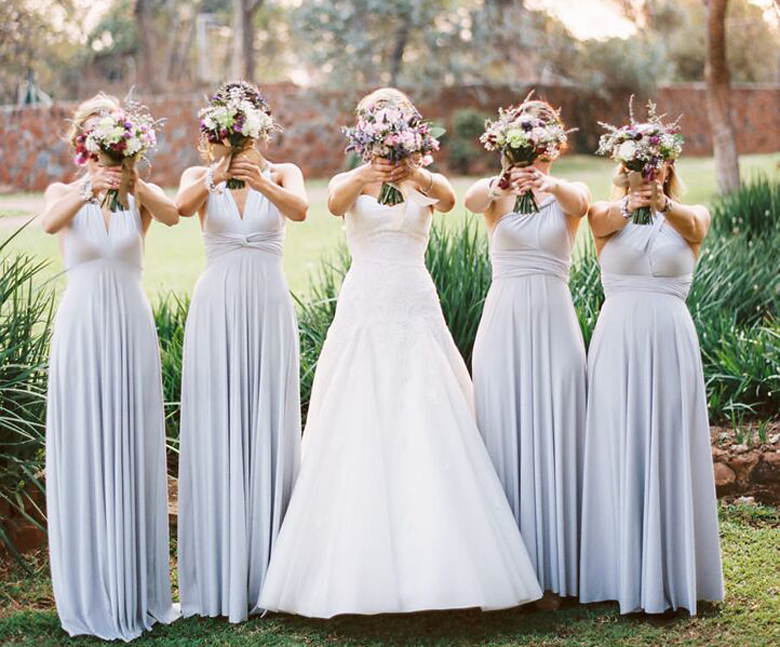 This stunning range of Infinity dresses is designed to fall beautifully to the floor, making it the perfect dress for an evening function or wedding. This dress can be styled up to 27 unique ways and is available in almost any colour you desire: choose from over 55 beautiful shades. The quality of the fabric is impeccable, soft and suits any body type.
The Summer Length Infinity Dress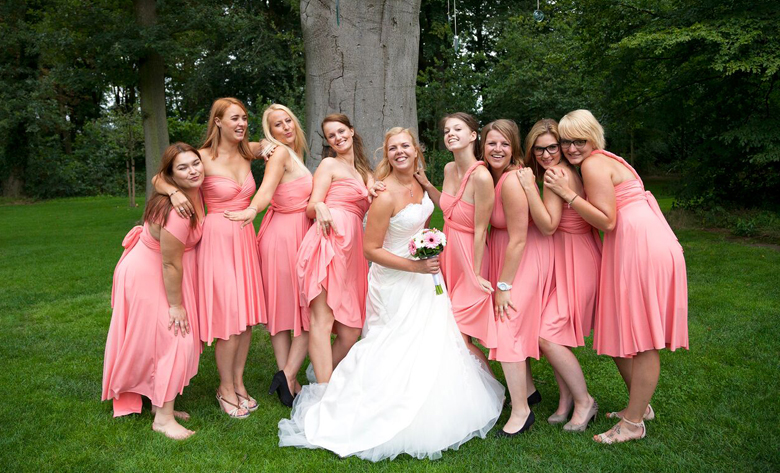 The summer length Infinity dress's knee-length style makes it a fun alternative to the evening length Infinity dress. For an evening style, you can pair it with stockings and a pair of high heels, or you can pair it with kitten heels or pumps for a more casual look. Either way, you will look amazing in over 27 styled looks to choose from. Choose your dress from a selection of over 55 colours!
The Winter Wrap Dress with Lace Top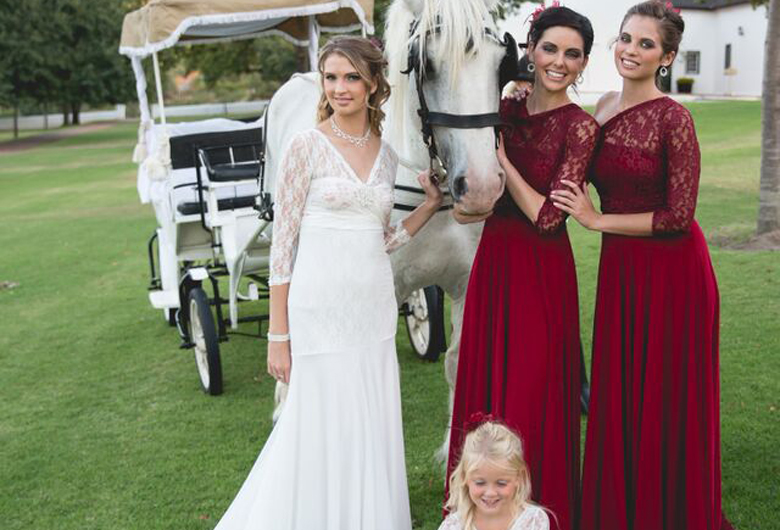 The perfect evening wrap dress for Winter. The delicate lace straps not only ward off the Winter chill, but add a beautiful touch to the dress as well. This Winter wrap dress can be styled up to 11 unique ways, so you don't have to worry about wearing the same dress twice: wear it for the first time, eleven times! This stunning dress is available in eight stunning shades and can be styled to suit every body type.
This article has been brought to you by The Infinity Dress company