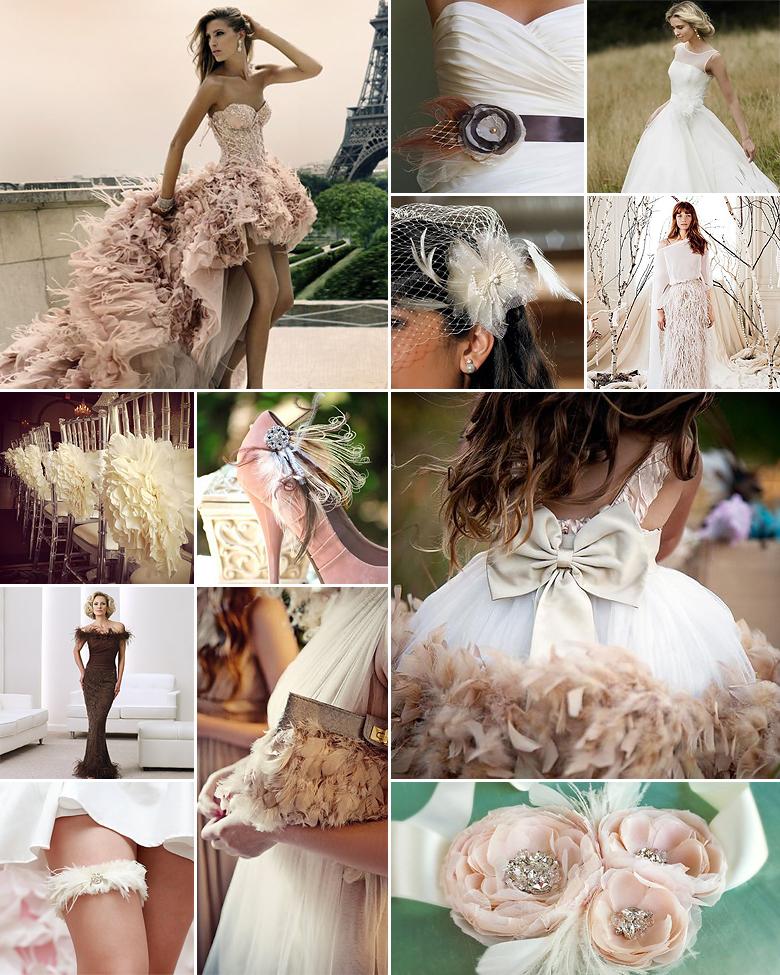 Chiffon and feathers were practically made for one another – a combination of soft elegance and timeless style that embodies whimsical romance in every way. Meshed with various shades of cream, ivory and powdery antique colours, the result is certainly quite spectacular and dramatic. 
Let's look at a couple of ways for combining these two elements with supreme grace and flair:
Make your very own fabric flowers out of chiffon and combine it with long stemmed ostrich feathers to create striking table arrangements or bouquets.
Drape the guest tables in billowing chiffon table cloths and scatter feather bits down the middle, so it acts as a table runner of sorts.
Opt for romantic flowing chiffon dresses for the bridesmaids and complete the look with stunning feathered hair fascinators.
Turn the venue into a romantic haven by lowering the ceiling with folds of chiffon and decorating it with long strings of feathers.
Line the aisle with folds of flowing chiffon and scatter feathers all the way down the passage.
Complete your own bridal ensemble with chiffon covered shoes adorned with soft feather tufts.
For a more dramatic look, consider a dress with a soft chiffon bodice and striking floor length feathered skirt.
Instead of confetti, have guests scatter bits of feather off-cuts over your heads and package the feather confetti in mini chiffon bags.
To really make the most of the feather chiffon combination, add a touch of bling in the form of crystals and diamante, or pearls for a hint of vintage class.
Original images and their credits available on Pinterest