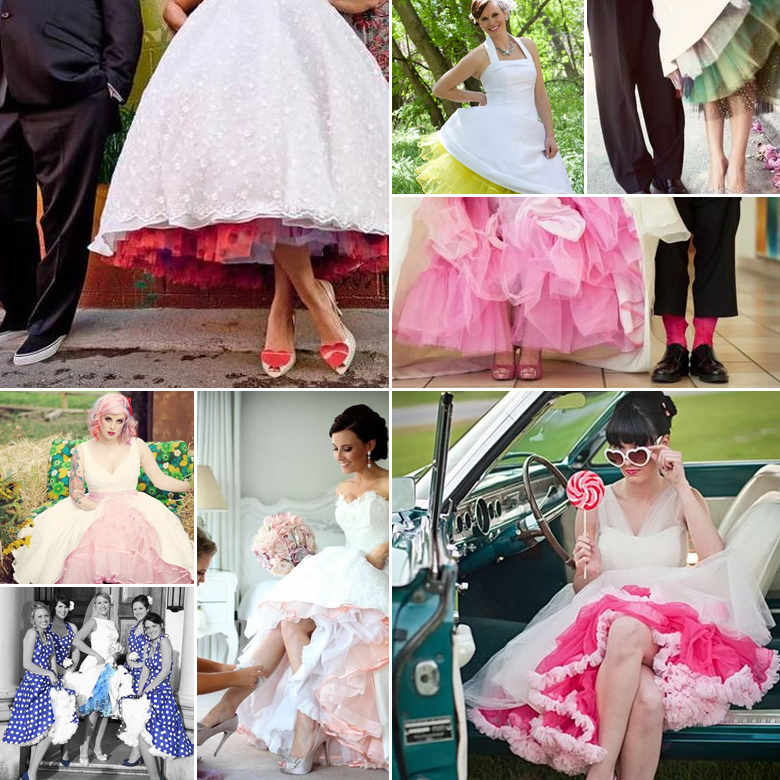 Looking to add a touch of fun and colour to your wedding ensemble? Consider the petticoat! Most wedding gowns require petticoats to give it the right amount of body, so you may as well use this element to its full potential and go rent a colourful underskirt.
For starters, why not opt for an ombre petticoat in a colour of your choice? This helps to soften the colour somewhat so that it's not too overpowering and "in your face". We especially love soft colours like blush and baby blue, as it adds a dash of femininity to an otherwise white gown.
Darker shades and jewel tones have also gained quite a bit of popularity over the past wedding season or three. A darker coloured petticoat is dramatic and makes quite a statement, especially if you have a darker complexion and hair.
If you're smitten with the idea, but not particularly keen on adding a colourful petticoat to your wedding ensemble, you can always add some colourful frills to your bridesmaid dresses. Be sure to consult them first, as not everyone might be comfortable with the idea of a big underskirt.
Lastly, consider pushing the boundaries of colourful petticoats with printed fabric. Think light pink deer prints for a woodlands theme or bright florals for a spring theme.
Original images and their credits available on Pinterest