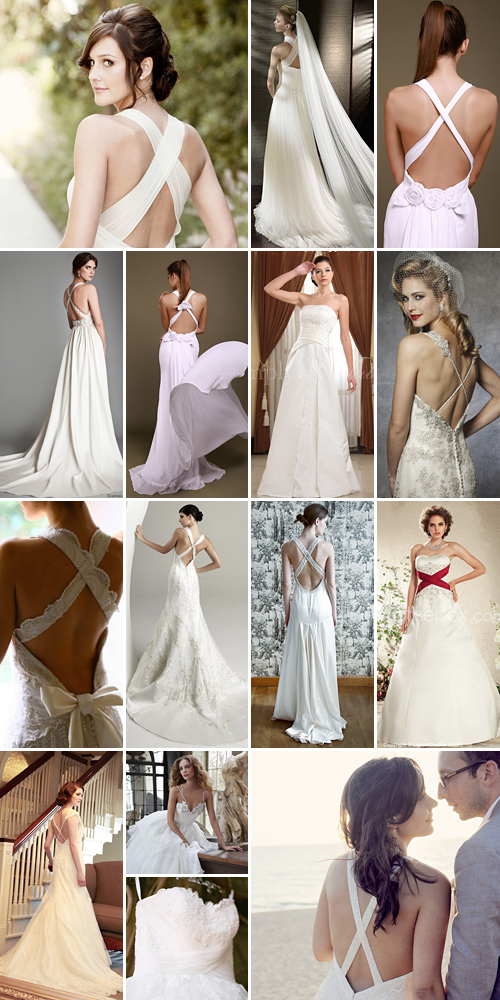 You crossed your heart when you promised that you would love him forever and you end every love letter and text message with xs and os, so what more reason do you need to incorporate criss cross into your dress design? Criss-crossing can be extremely flattering, especially when applied to key areas of the dress bodice, like across the stomach or around the hips, ultimately creating the illusion of a slimmer silhouette.
One of the simplest and sexiest ways to work the cross into your wedding dress design is by wearing a gown with a criss-cross back – whether it be corset-style threading or a simple single cross across a bear back. While simple strings create a striking contemporary look, softer fabrics like chiffon or lace have a romantic and feminine appeal about it. On the other hand, a different take on the crossed back that we're seeing more often these days is the criss-cross front, where the fabric crosses over the chest area before disappearing over the shoulders and tying at the back.
Fabric layered in criss-cross fashion is also a fashion favourite at the moment, not to mention wrapped tightly around the torso – mummy-style, as some grooms might say. In terms of the finer details, it's impossible not to get completely smitten with tiny cross-stitch touches and interesting criss-cross straps or single-shoulder dresses. Alternatively complete your bridal ensemble with knotted jewellery or belt, or a delicately braided hairstyle.
At the end of the day it's really about giving free reigns to your imagination and finding new ways to twist, knot and cross a piece of fabric – go mad!
Original images and their credits available on Pinterest