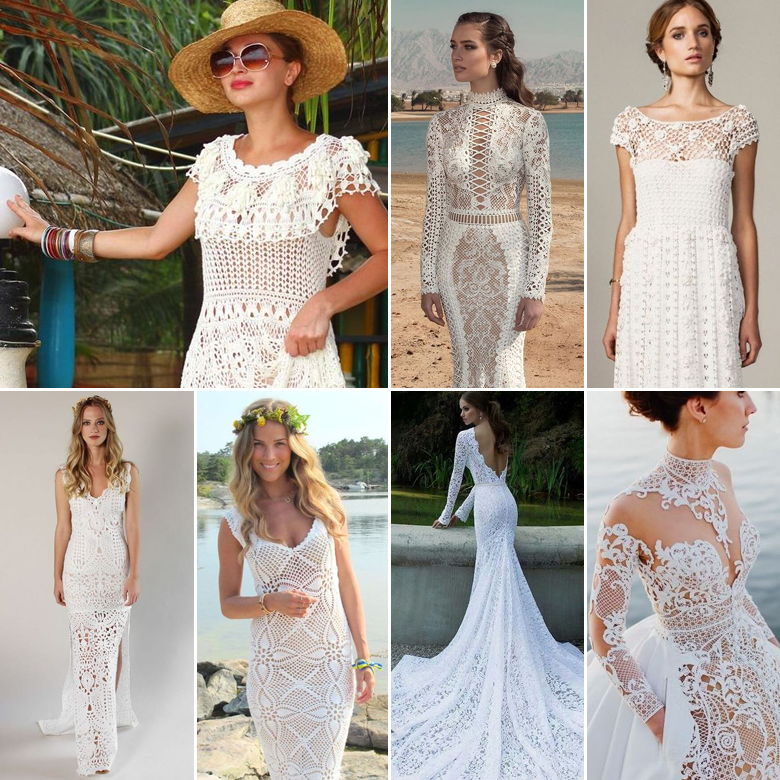 Do you feel like you were born in the wrong era? Well then, a crochet wedding gown might be just the thing to complete your wedding day.
This trend is right up the alley of boho beauties and nostalgic nymphs. One option is to go for a floor-length crochet dress that encapsulates old world style. Alternatively, consider wearing a simple white sheath dress with a loose-knot crochet dress over it.
Bear in mind that crochet is a very particular style and might not work with more stylish and elegant wedding day themes.  It's therefore essential that the crochet element be reflected in other areas of your wedding day. Think crochet table cloths or table runners, or even crocheted doilies as guest favours for your lady friends.
While crochet might seem cool and airy, remember that it's still a type of wool and can therefore become very hot – especially in mid-summer. A good way to get around this is to opt for a more open knit that allows for ventilation, or to opt for a dress with crochet insets instead. We also love the idea of adding small touches of crochet to your bridesmaids' gowns – for instance crochet headbands or belts might just do the trick.
Original images and their credits available on Pinterest