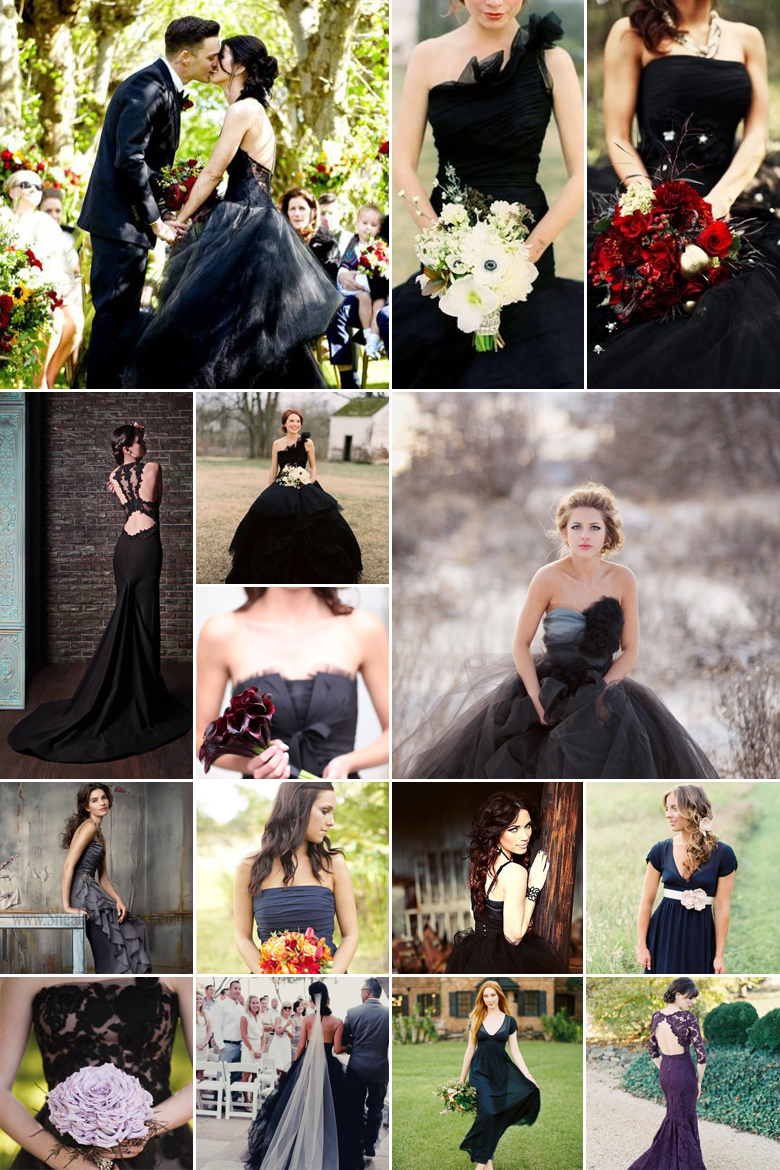 White will always be synonymous with weddings, but then again – just because it's considered tradition, doesn't mean white is the colour for everyone! In celebration of Halloween, today's post takes a look at dark, bold and dramatic dresses that might not get Grandma's nod of approval, but are every bit as dreamy and stylish as a traditional white gown.
Black is always a winner on the style front, though if you're a bit nervous of this strong colour, jewel tones are every bit as whimsical and elegant. You can be sure that your guests' jaws will hit the ground when you come traipsing down the aisle in a striking emerald, purple, maroon or navy gown.
While dark dresses are often associated with Gothic and Halloween themed weddings, the reality is that a deep dark toned dress can be oh-so romantic and feminine with just the right dramatic edge. Here are a couple of ways to soften a dark gown so that it's more "bold princess" than "dark lady":
Opt for a cascading floral bouquet that's constructed of feminine pastels and wispy flowers.
Pair your dark wedding dress with light shoes (cream, ivory or champagne) and stunning pastel accessories.
Instead of structured fabrics, choose dark coloured fabrics that are soft and feminine to create that beautiful contrast – think chiffon, lace and tulle.
Add ruffles and pleats to the design of the dress and consider layers or soft fabric to give it that dreamy flowing look.
Soften the look with a romantic, bohemian or whimsical hairstyle that really enhances your natural femininity.
Steer clear of dark make-up and rather keep your look as warm and natural as possible.
Original images and their credits available on Pinterest