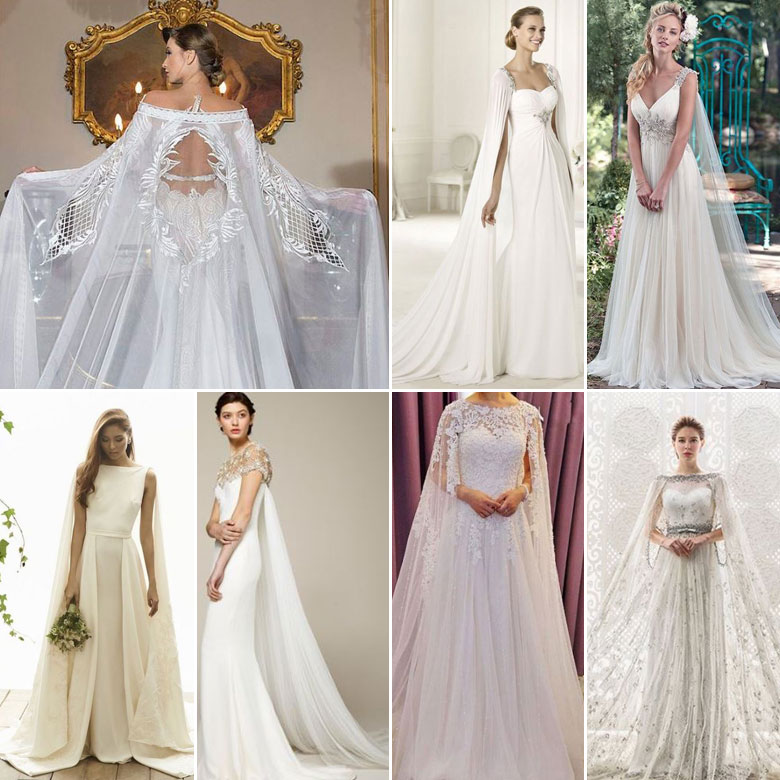 You don't have to be an undercover superhero to don a cape on your wedding day! We are in absolute awe of caped wedding gowns – they're different, special, warm and just plain lovely. What's more, if your hubby-to-be is a comic book fanatic, this look is sure to please.
A bridal cape can form part of the gown, or be added as a separate entity. We especially love the fact that you can re-wear a loose cape with just about any evening gown at later events!
Even though capes might look pretty straight forward, there are many different options and things to consider. For starters, you need to think about the fabric – do you want something in a material matching that of your wedding dress, or something more contrasting?
Secondly, there's practicality. Are you wearing the cape for the look alone, or would you like it to keep your warm? If it's the latter, you'll need to opt for a larger cape that wraps around you and which might obscure the view of your wedding dress. You'll also need to think about whether you want sleeves or not, and if you want a sheer cape or something in fur.
Lastly, consider the length of the cape in comparison to your height. If you're a short and tiny bride, a long cape might overwhelm your tiny shape – in which case, why not consider a wrap or waist-length cape instead?
Original images and their credits available on Pinterest