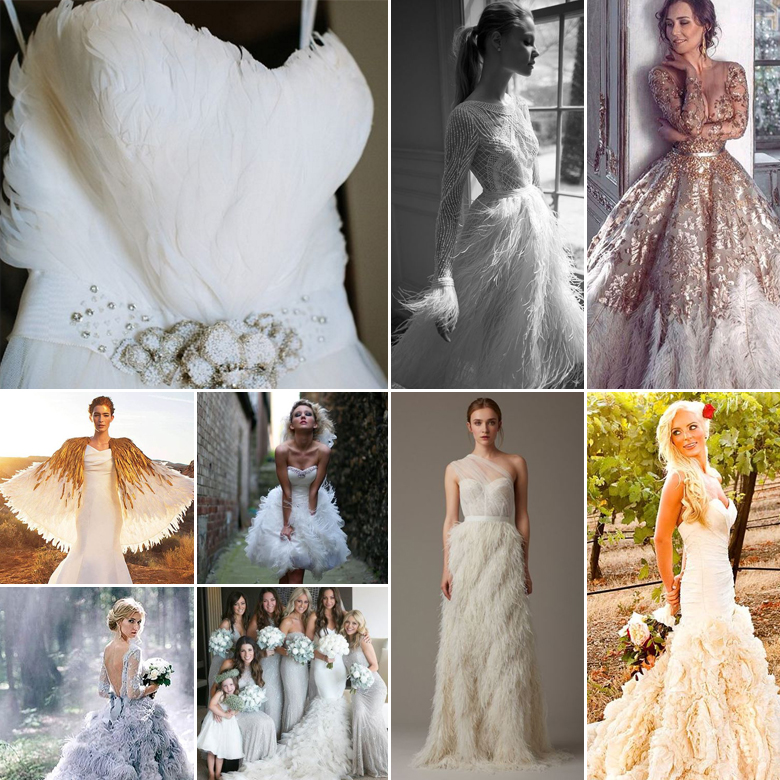 Feathered everything is a trend as old as the Gatsby style, if not older – and we love the fact that it keeps making come-backs at the most unexpected times. Feathered wedding gowns might not be every bride's cup of tea, but it's certainly worth considering if you have a bubbly and flamboyant spirit.
For starters, you can opt for a full-blown feathered skirt. This is ideal for the skinny brides with a long and lean torso, but it's also perfect for concealing wide hips. Then again, if a full skirt from the waist down isn't really for you, why not consider a mermaid dress with a feathered bottom?
The next thing to consider, is how densely packed you want the feathers to be, and what style of feather you have in mind – after all, there are millions of options to choose from! Print out a picture of a feather or buy a few feathers that you like, and give it to the dress maker as inspiration. Another alternative to a feathered gown is to wear a feathery shrug or wrap to keep you warm on the day.
A very important thing to bear in mind is allergies – especially that of your fiancé! If there's any chance that either of you might be allergic to feathers, best steer clear since you don't want to be sneezing all through the ceremony.
Original images and their credits available on Pinterest