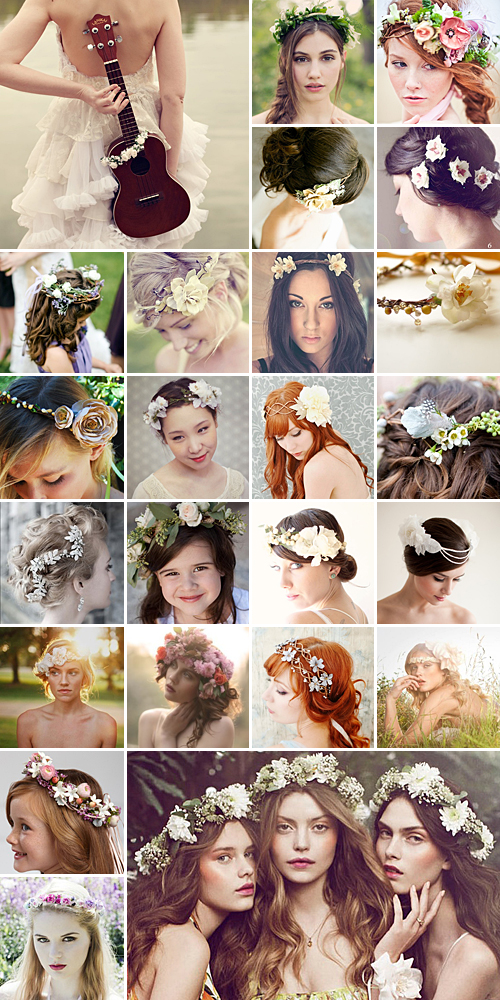 Floral crowns are the very epitome of fairy tale elegance and are very much reminiscent of princesses and forest nymphs. However, as pretty and enchanting as they are, it's not just a matter of popping a floral wreath on your head on the way to church. Wearing a floral crown in your hair will have a great impact on your entire ensemble and will ultimately determine whether you should opt for a lavish or simple bridal bouquet, or perhaps even no bouquet at all!
It's always wise to inform your stylist should you choose to don one of these lovelies. Even if your hairstyle is relatively simple, your chosen floral piece might not fully complement the hair-do or quite simply get in the way. Also tell your make-up artist about your blossoming plans as the type of headband could influence whether she takes a bold or simple course of action. If you're having a trial run for hair and make-up, ask your florist to prepare a mock-up of your crown.
Here are a few more dos and don'ts, off the top of our heads:
Make sure you choose flowers that won't leak sap or pollen onto your hair as this could make it sticky and greasy.
Finish applying all your hair products and sprays before putting on the floral crown as the chemicals in the products might cause the flowers to wilt.
Instead of real flowers, opt for fabric flowers that won't get crushed or die half through the ceremony.
If you're quite voluptuous in shape, steer clear of crowns that will flatten your hair as this could make your head look small in comparison to your body.
If you're petite, avoid wearing an over-sized floral wreath as it might be too overpowering and draw attention away from your wedding dress.
In the case of the little flower girl's crown – ask your maid of honour to hang on to it until the very last second (so that it doesn't get wrecked or lost) and pop it on the little girl's head before she walks down the aisle.
If a crown is not really your style, have the florist attach the flowers to an Alice-band or wear a headband with one striking flower attached on one side.
For more Floral Crown ideas, the original photos above and their credits, please make sure to check out our Floral Crowns Pinterest Board!