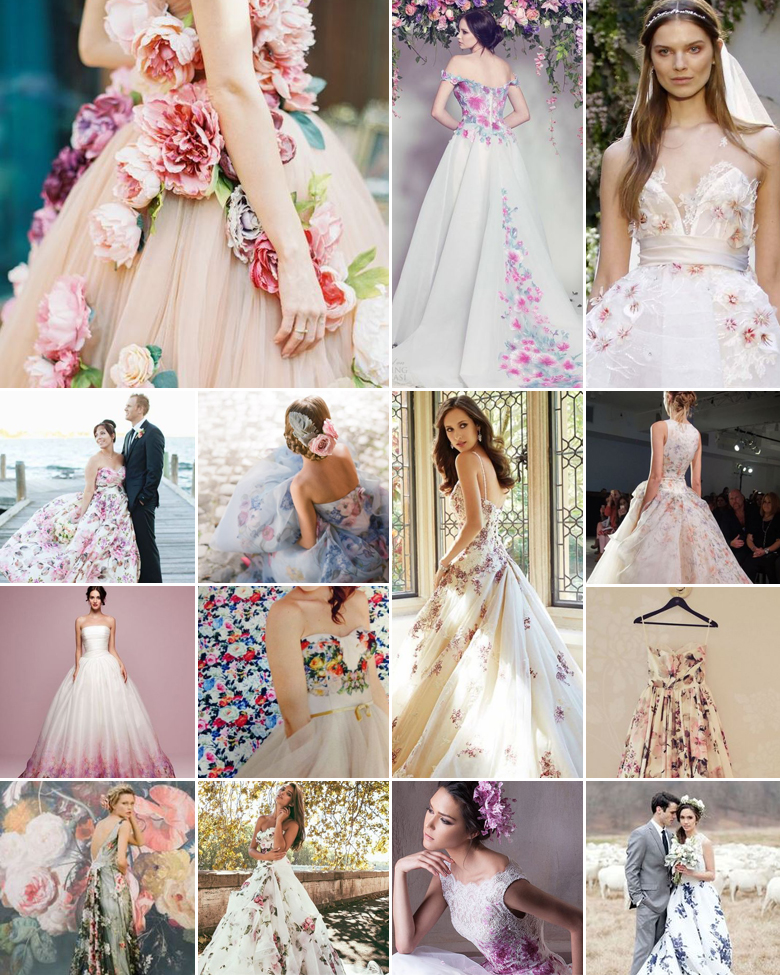 Spring is in the air and what better way to celebrate it than with a vibrant and festive floral wedding gown? While a wedding dress made entirely out of floral fabric is the first thought that comes to mind, there are many ways to approach this fresh and merry fashion trend. For instance, add a simple floral belt or jacket to the ensemble, work floral panels into the design or complete the look with floral shoes – whatever suits your fancy.
As a rule of thumb, plus sized brides should avoid full-body florals as well as bold patterns, instead opting for medium-sized and light-coloured flower patterns – off-white on white is a guaranteed winner! Trust your designer to give you more guidance in this regard. One of the second biggest challenges of pulling off florals with grace is choosing the right bridal bouquet to go with it. Here are a couple of tips to give you a better idea of the dos and don'ts:
In the case of an appliqued flowered gown, e.g. embroidered flowers, it's always a good idea to complement the textured nature of the fabric with small flowers like baby's breath or sweet peas. Alternatively opt for a "freshly picked" bouquet to contrast the sophisticated detail of the dress.
Should you opt for a more dramatic and organic design – i.e. bigger, bolder flowers – it's best to choose a bouquet that can compete. Think equally opulent and wild arrangements like a cascade style bouquet of, for instance, orchids or lilies.
Lastly, if you're wearing a dress that boasts in a repeating flower pattern, it's best to complete the look with a striking yet simple structured bouquet, therefore making the fabric flower the star of the show. White is always a good choice. If the pattern is one colour and one colour only, however, feel free to play around with vibrant colours and bold bouquet designs.
Original images and their credits available on Pinterest