Jou troudag word gevorm deur sekere faktore – die spesiale gaste, die betowerende venue, die hartroerende toesprake… maar vir die bruid gaan die troue oor die feit dat sy asemrowend moet lyk en die bruidegom se voete onder hom moet uitslaan wanneer hy haar vir die eerste keer sien. Dit is belangrik dat jy nooit jou keuse moet berou as jy na jou troufoto's kyk nie.

Rokke van Lily Beau Bridals
Daar is verskeie faktore wat die ons trourokkeuse beïnvloed. Een van die groot redes waarom bruide nie gelukkig is met hul trourok nie, is omdat hul toelaat dat ander mense hul keuse beinvloed. Nog 'n rede is dat bruide onderhandel oor wat hul wil hê in 'n poging om kostes te bespaar. Maar die grootste fout is heel waarskynlik dat bruide aandring op 'n rok wat nie by hul figure pas nie.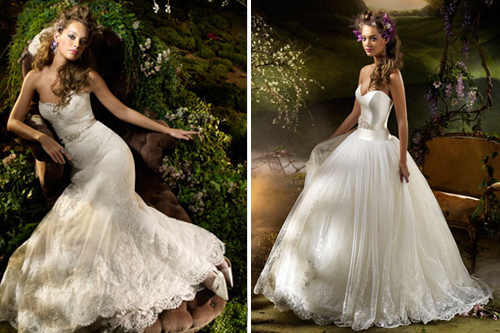 Rokke van Belle Demoiselle
Jou trourok moet presies wees wat jy wil hê, nadat in ag geneem is wat jy kan bekostig en hoe dit aan jou figuur sal lyk. Dit mag dalk 'n moeilike toegewing wees om te maak, maar dis belangrik dat jy gemaklik is op jou troudag en tevrede is elke keer as jy na jou troufoto's kyk.
Dit is belangrik om oop te wees vir voorstelle wat gewoonlik onaanvaarbaar sou klink, so maak seker jou ontwerper en / of 'shopping partner' is iemand wie se opinie jy vertrou. Jou nommer een prioriteit moet gemak wees. 'n Ongemaklike bruid kan gewoonlik nie haar ongemak wegsteek terwyl sy dans, kuier of vir foto's poseer nie.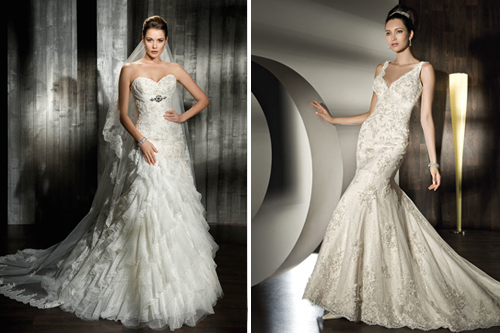 Rokke van Lady Marmelaide
Jou aanstaande dink reeds jy is die pragtigste vrou op die planeet – al wat jy moet doen is om 'n rok te kies wat jou fantasties laat voel op jou troudag!