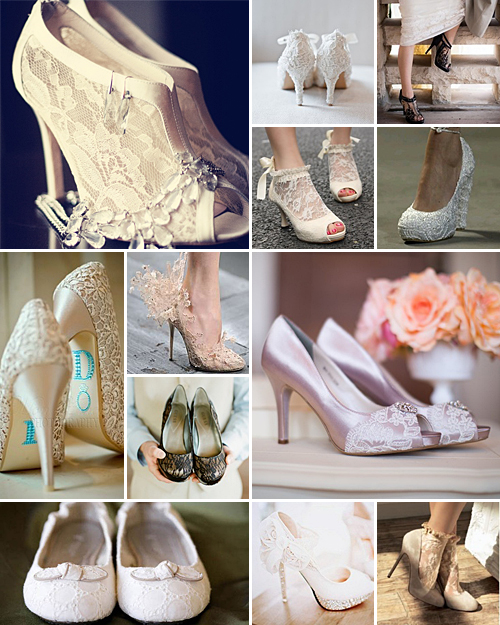 If there's one thing that's truly a step above walking on clouds or sunshine, it's parading around in a pair of lace adorned shoes! Whether you have them custom made or doll up your bridesmaids' shoes with lace off-cuts and stray beads, you simply cannot put a foot wrong when that foot is clad in feminine lace.
While lace covered shoes are definitely on our shopping list, there's also something rather sexy about showing some skin in sheer lace shoes – that's to say, lace with no fabric backing of any kind. Lace heels or slippers make a statement in their own right so it stands to reason that they're best paired with a simple yet feminine gown and delicate or minimal accessories.
While white or off-white is classic and timeless, you also have the option of layering – for instance, white lace on peach satin or black lace on teal. This creates a more striking shoe that complements the wedding colour scheme and one that female guests will certainly lust after.
If lace shoes are still too high up on the predictability scale, why not opt for a pair of plain shoes with lace anklets or lace ribbon ankle wraps? Another alternative is to adorn a simple wedding boot, heel or pump with an elaborate lace decoration such as a bow or rosette and a scattering of beads of crystals for that added touch of bling.
Make sure to check out our wedding shoes section for companies that can assist you in finding the perfect lace wedding shoe / slipper for your wedding day!
Original images and their credits available on Pinterest