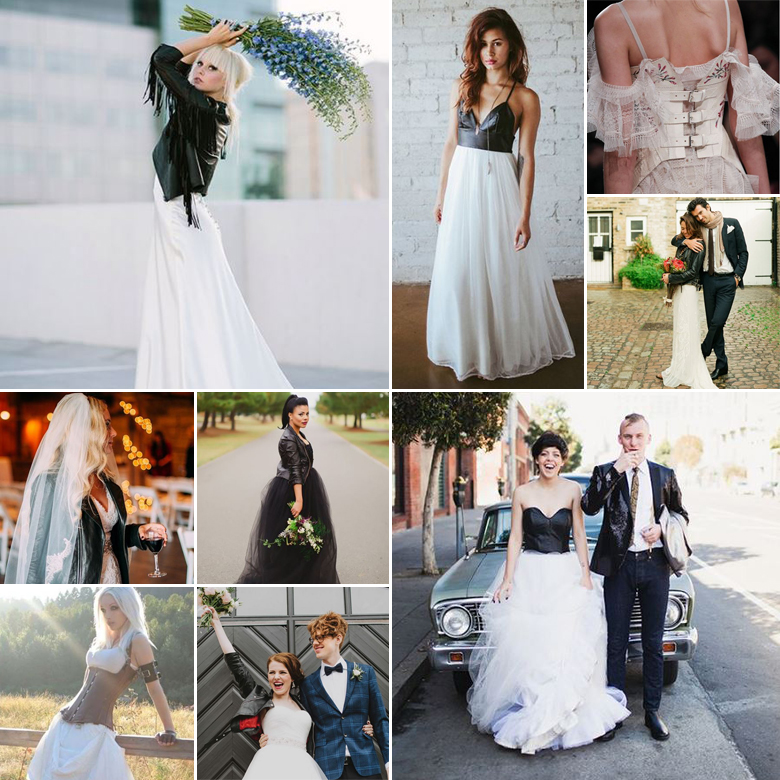 You're wild at heart, and you practically belong on the back of a horse or motorcycle. Girl, this trend is all you! Leather wedding dresses are different, unusual and can be simply stunning, especially if it's in keeping with your unique personality.
First things first – this is not a good idea for summer, so put it out of your head right now. Leather is a thick fabric, and can make you feel hot and bothered on a summery day. However, fret not – you don't necessarily have to wear leather from top to toe, and there are plenty of ways to incorporate leather into your wedding ensemble!
We love the idea of a wedding dress with leather insets, especially with a contrasting fabric like lace or chiffon. Alternatively, consider wearing a sexy leather corset with a beautiful feminine skirt. Leather accessories are also an excellent option, and nowadays you can purchase the most magical leather necklaces, laser cut cuffs and more.
To complement your wedding dress, add touches of leather to the bridesmaids' outfits. For instance, encourage them to wear leather boots or a stunning leather waistcoat. The same can be said for the groom and his entourage – after all, who doesn't like a man in leather?
Original images and their credits available on Pinterest