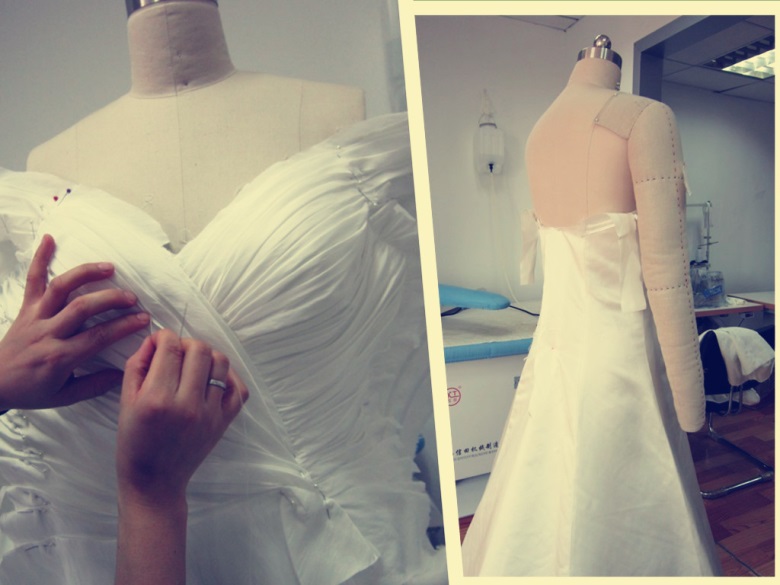 Making a wedding dress requires great accuracy and neatness. It is not difficult to do if you are a confident and experienced home sewer. If you are not, get some practice on summer dresses and skirts before even contemplating making your own wedding gown. If you have made a few pieces and are confident in your ability to create neat, attractive garments, then making your own wedding dress is a cheaper option that allows you to be as innovative and creative as you like.
Finding a wedding dress pattern is just as important as finding the right dress in a boutique. There are some online resources from which to buy such patterns. These include:
www.simplicity.com – Simplicity is a well-known brand and has a range of patterns for some gorgeous gowns.
www.voguepatterns.mccall.com – from classic to designer, Vogue promises quality and elegance.
www.mccall.com – McCall's is another trusted name in sewing patterns and has a great selection for the discerning bride.
www.weddingpatterns.com – for really unique designs, take a look at the limited range on WeddingPatterns.com
Finding out what size is best for you is the next important step. Do not trust what your jeans or underwear says. You will have to measure yourself and use those numbers to decide on a size. If you will be wearing specific underwear, measure yourself while wearing it. Use a soft tape measure to measure around the bust, waist and the widest part of your bottom. If your measurements are between two sizes, rather get the larger of the two, as taking it in is much easier and looks more professional than trying to enlarge a smaller size. If you are opting for a ball skirt, you only need the bust and waist measurements.
Then, choose your pattern. Choose something that you love but that you are also confident of being able to handle. Once you have decided on the dress, choose the fabric. Ensure that the style is one that can be made using this particular fabric and that the colour suits the overall look and feel. Once this is all done and dusted, consider what adjustments you want to make to the pattern to make this dress uniquely yours. You may want to add spaghetti straps or shorten the length so that a colourful petticoat sticks out slightly.
Before even touching your wedding dress fabric, make a mock-up gown out of Muslin or any spare cotton that you have. This is your chance to do the real hard work, experiment with your alterations and seeing where changes need to be made. While wearing the dress in front of a mirror, get someone to help you to pin it until it fits you perfectly. Feel how comfortable it feels and look carefully at the length of it before committing yourself to anything. Make the alterations so that the dress fits exactly according to where the pins were placed.
Once you have got the dress looking and feeling perfect, alter the paper pattern accordingly. This is done by carefully cutting the Muslin dress apart into its individual pieces, laying it back onto the paper and cutting the paper around it. Once you are happy that the paper pattern now resembles the well-fitting fabric version, you can mark the pattern out on your official wedding dress fabric. Cut the fabric very carefully with a very sharp pair of scissors. Ensure that you have laid the fabric out according to its grain or else your dress will pull in all sorts of strange directions. To mark specific point on the fabric, use a colourful threaded stitch rather than any sort of marker.
Put the pieces together and tack it. Before sewing it properly, try it on one more time to check that it is the perfect size and shape. If any adjustments need to be made, you can simply untack it and make them. Once you are happy, you can sew it.
Now comes the fun part. Use different laces, beads and ribbons to embellish your gown until it is exactly what you have always dreamt of wearing.
Photo Credit: dresseslux.com