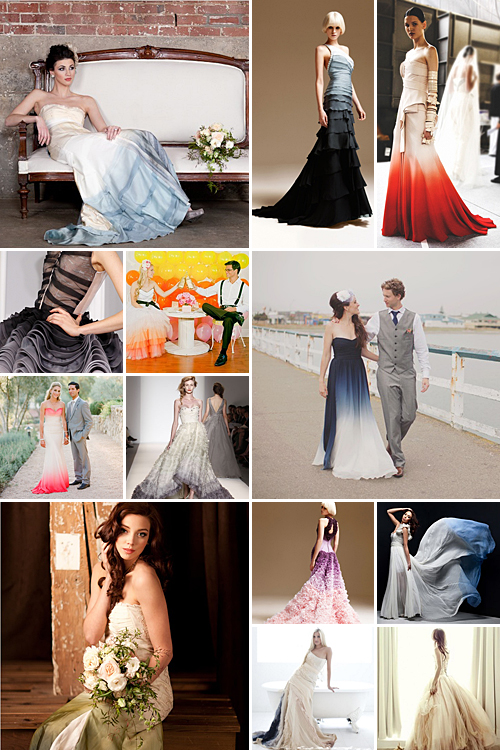 Many brides are still somewhat wary of this lovely yet quirky trend, and therefore restrict it to the bridesmaids' dresses. Yet there are so many reasons why you should be the one to wear ombre on your wedding day, Miss Bride-to-be! Here are but a few:
Let's face it – we can't all rock crisp white. Ombre on the other hand, can make bridal white flattering for all skin types.
Ombre is a little more flashy and fun than just plain old white.
Yet it's still white! Thanks to the subtle blend of colour and white, even your traditionalist grandmother will love the dress.
You can mix and match your favourite colours. Ombre doesn't have to fade from white – instead use any colours of your choice! For instance, why not fade from light pink to blush?
Ombre is slimming. This technique draws the eye from top to bottom and can be used to "shade" and contour certain areas of the body.
It's unusual – if ever there was a way to make a splash, ombre is the way to do it.
Ombre is very hot and in fashion this season. Wherever you look, ombre is in the air – from wedding cakes to wedding hair.
An ombre hemline won't show the dust and dirt that accumulates during the photo shoot or dancing.
Forget about finding the perfect coloured accessories and shoes! An ombre dress is an easy way to match your look with the wedding colour scheme, or vice versa.
If you love bright colours, then ombre is the ideal way to soften colours like cerise or lime to the point where it's deemed acceptable for a wedding day.
Original images and credits available on Pinterest.