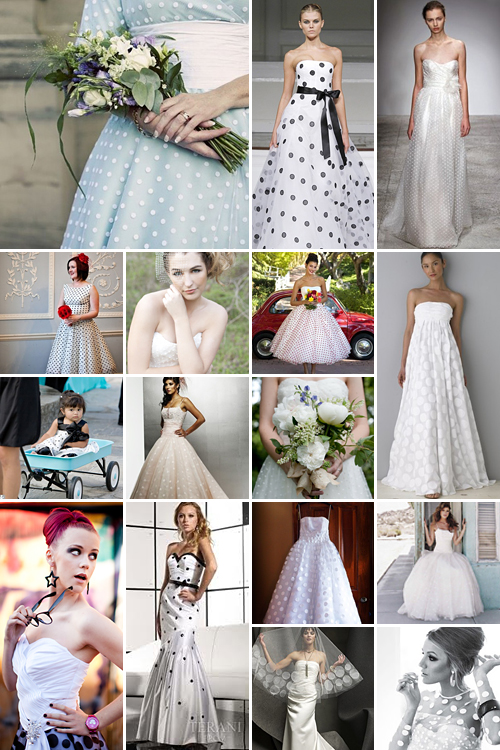 Whether your friends describe you as "somewhat dotty" or you're the type to dot her "i's" and cross every "t", you simply cannot deny the charming allure of a polka dotted wedding dress. The trick to pulling off dots and spots, is wearing it with a cheeky smile or a laid-back attitude, and pairing it with an informal wedding theme as opposed to a black tie or formal one.
While polka dots are best suited to a cutesy 50s style, short or ankle-length teatime dress, there's really no reason why you can't mix it up. A long flowing dress with polka dots, for instance, creates an enchanting contrast between raw sophistication and frivolous fun, while black dots on a white gown can be striking in a whole different way.
The size of the polka dots is also something that's not to be overlooked – whereas tiny speckles have a soft yet quirky femininity about it, over-sized or miss-matched polka dots make quite a bold and contemporary statement. We especially love white-on-white polka dotted dresses where the use of sheer dotted fabric adds a sense of dimension to a simple white gown.
Most bridesmaids will be all too chuffed to don a polka dotted in a matching theme colour. Then again, if you yourself can't live without a splash of colour, there's really no reason why you can't opt for a pink, blue or multi coloured polka dotted bridal creation. Alternatively consider adding polka dotted details to your dress rather than parading around in a full dotted gown – for instance, keep your eyes peeled for dotty shoes, a waist belt or even a lovely hair bow or band.
Original images and their credits available on Pinterest