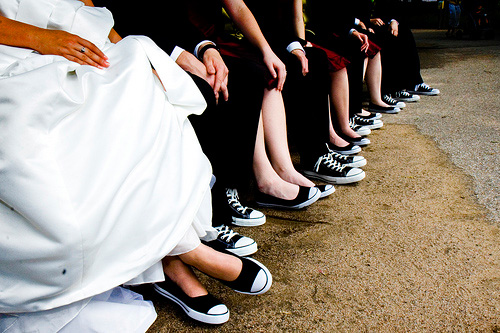 Given the great success and feedback we received from our Put a Sock In It post last week, we thought we would do another one focusing more on WEDDING FEET and SHOES!
Shoes are a must have accessory for any wedding, but it's definitely something that gets lost and not always noticed by guests, so for memory purposes, great shots of shoes can be a stunning photo as you will see from the gallery below.
There are so many types of shoes available now-a-days from strapless to pumps to boots to stilettos to gladiators to sandals to takkies to sneakers to slip slops…we can go on…the list is endless!
Shoes are also a creative and fun way to show off your personality. If you are a beach type girl, go for cute slip slops or sandals. If you are a sporty person, go for a funky sneaker or takkie shoe. If you're a horse lover, you could opt for boots. You get the idea!
Have fun with it and make sure to get those shoes on to ensure no COLD FEET!
[flgallery id=16 /]