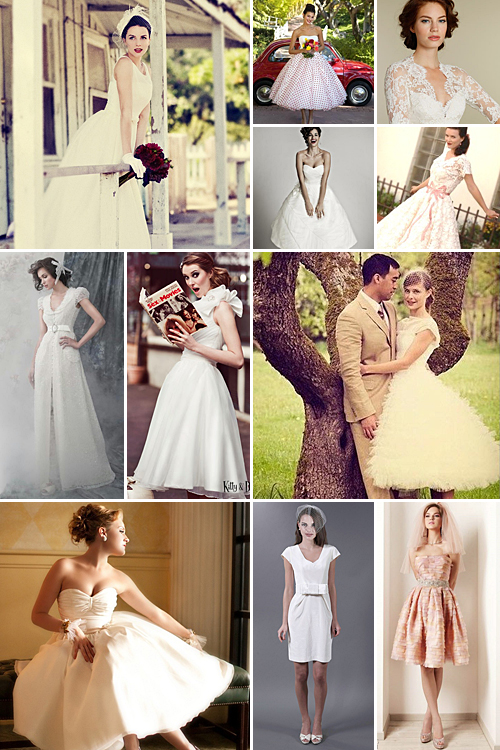 Mama Mia, here we go again! Whether you've watched Grease 17 times (and counting) or consider yourself a complete Mad Men addict, these preppy gowns have your name written all over it in neon and glitter. Retro wedding dresses are usually characterised by their bold and playful lines, often cheeky and somewhat tongue-in-cheek. Ankle-length tea-dresses are very much the go-to style and don't be afraid to toss a bouncy petticoat into the mix.
From the sophisticated high-neck 50s inspired dress to ruffled tea dresses that would've made Alice feel quite at home in Wonderland – it's all about wearing your retro design with confidence and pulling it off with a jaunty spring in your step.
Generally speaking, a retro look is all about combining quirky yet bold pieces that make a statement – for instance, a plump bridal bouquet of tightly packed roses or brightly coloured wedged heels. Don't be afraid to over-indulge in striking fabric bows and extra ruffles, or if stripes and polka dots are your thing, then why not incorporate that into the design for something different?
The retro chic look can further be complemented with a perfectly structured retro hair style ala the stunning Miss Scarlet and dramatic hair accessories like a petite bird cage veil or perhaps a feathered fascinator. Paired with a short elbow or shoulder-length veil, a retro-style dress is the epitome of girly femininity.
Original images and their credits available on Pinterest.