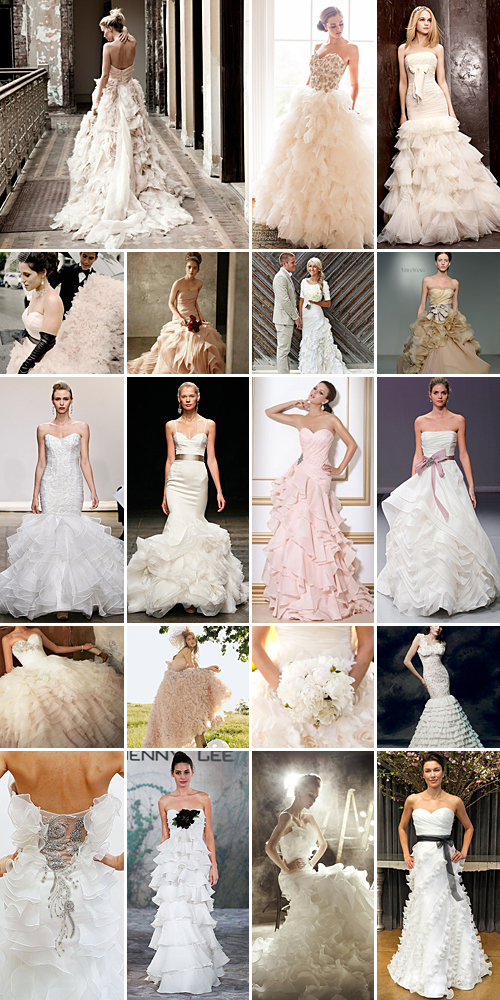 At this very moment we're far too mesmerised by the frills and prettiness on the screen in front of us to think of anything more ladylike and lovely than soft ruffles. Not to be confused with the classic meringue dress, ruffled dresses have a soft and feminine flair that's almost reminiscent of drifting clouds and wispy cotton candy – to die for!
Ruffles add a playful and cheerful twist to just about any dress – whether you opt for a full ruffled skirt, a couple of strategically placed ruffles down the side, or delicate ruffles all over. From vintage '20s to enchanting fairy tale gowns and the more contemporary, a ruffle might be just what you need to ultimately complete the look.
Because ruffles are so voluminous, they need to be placed ever so carefully so as not to make you look bigger than what you actually are. If for instance you're bottom heavy, a skirt that's ruffled from the waist down can help to conceal large hips. In the case of top heavy brides however, consider a ruffled mermaid skirt to create overall balance without making you look heavy.
Aside from ruffle placement, you should also consider:
The size of the ruffles: Big flowing ruffles vs. small dainty ruffles.
The density of the ruffles: Widely spaced ruffles vs. tightly packed ruffles.
The orientation and alignment: Diagonal ruffles will make you look taller and more slender, whereas horizontal ruffles can make you look squat.
For more Ruffled Wedding Dresses, the original photos above and their credits, make sure to check out our Ruffled Wedding Dresses Pinterest Board!