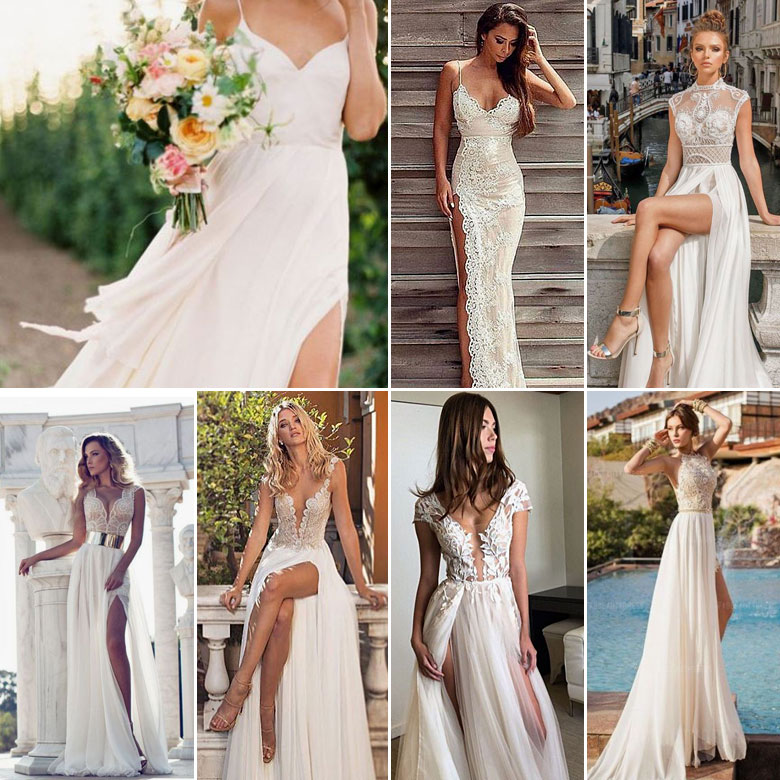 There's something oh-so sexy about a dress with a slit – very few will disagree! So if you're looking to make a splash on your wedding day, step out in style with an elegantly simple dress… with a slit of course.
Now the first thing to bear in mind is that you'll be showing a lot of leg. That means you'll have to pay extra special attention to your walkers in the months leading up to the wedding. A good skin care routine is an absolute must – we're talking full moisturising routine, the works! Plus shaving is out of the question – get that wax and make sure there isn't a single hair that gets left behind!
Secondly, you'll have to think about just how high you want that slit to go. In order to decide this you need to determine just how comfortable you are with your thighs. If you're quite a short bride, opt for high heels to give your legs some extra length.
Finally, there's the style of the dress. As any dress designer will tell you, a slit isn't exactly something you can just add to any gown – it needs to suit the overall style. For instance, don't expect a slit to work with a ball gown!
Original images and their credits available on Pinterest