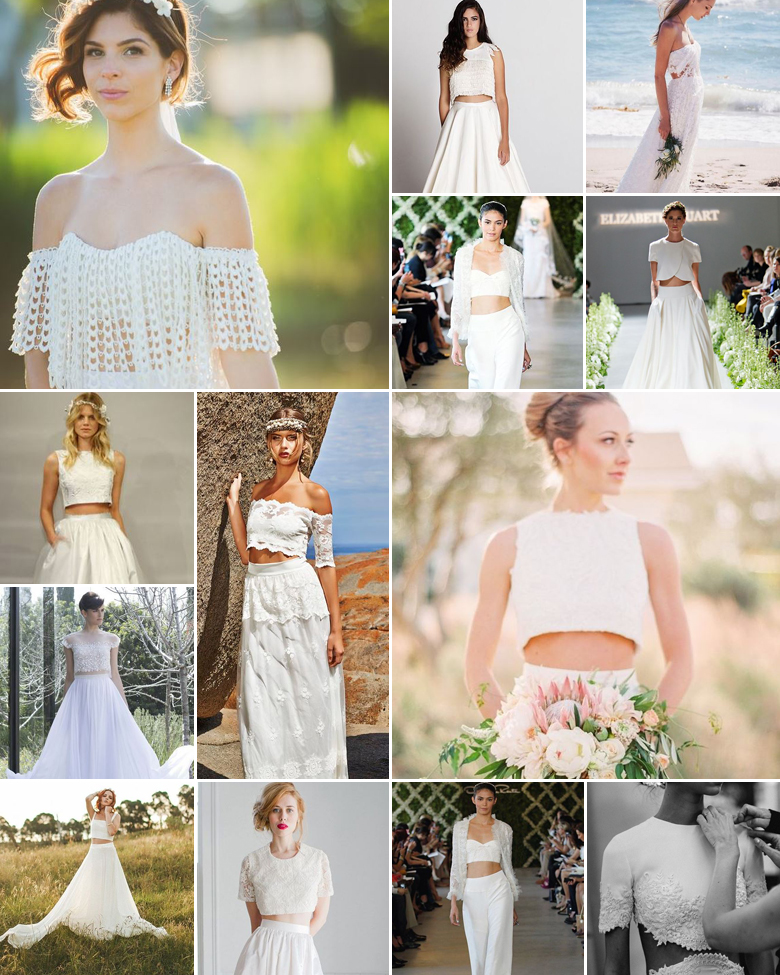 Crop tops are all the rage this season, and if you have the body to pull it off it's definitely a style worth considering for your wedding day. Here are a couple of tips for wearing yours with equal amounts of panache and pizzazz:
Think elegant with an edge – It's all about striking the perfect balance between grungy and sophisticated – remember, it's still your wedding day! For instance wear a top that's made of feminine fabrics like vintage lace or chiffon.
Don't bare it all – Just because it's a crop top doesn't mean it has to be over-sexualised and too revealing. The success of the crop top lies in showing only a small part of well-toned skin – that's ample and still leaves enough to the imagination.
Go high-waisted – Showing belly-button is a big no-no at the moment, so stay with the trends and pair your crop top with a billowy high-waisted bridal skirt.
All or nothing – If you're going to wear a crop top, you can't expect to keep everything else traditional – e.g. bridal tiara and tight up-do. Commit to the style, choose accessories and hairstyle to match, and wear it all with confidence.
Make yourself the focus – You only choose a crop top bridal gown if you want to stand out, so complement your bold look with simple bridesmaid dresses.
Bridal Accessory Providers
Looking for custom bridal accessories? Visit our Bridal Accessories section for more info.
Original images and their credits available on Pinterest