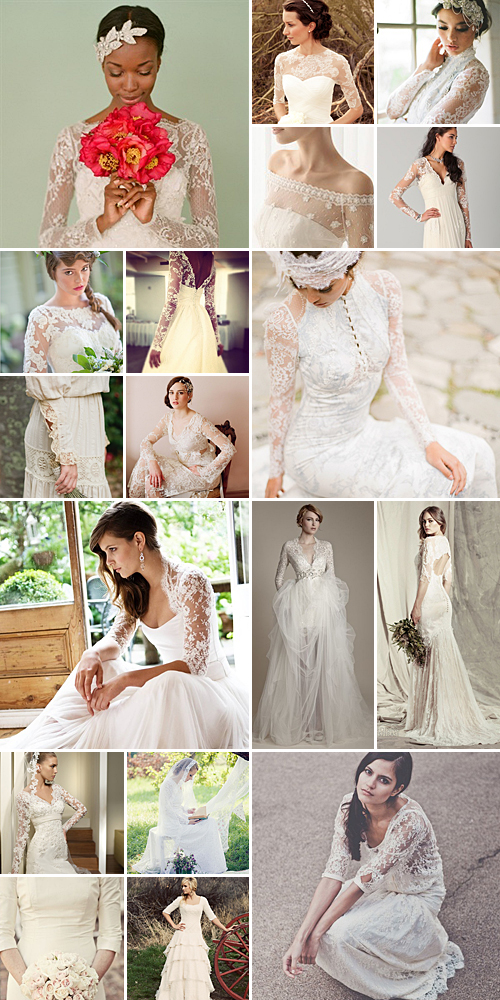 While most girls dream of a summery fairy tale gown that flaunts those tanned arms and defined neck contours, the fact of the matter is that you might well end up having to settle for a winter wedding; so not only is there the chill to consider but also the ghostly white winter arms that could do with a bit of covering up. Sleeved dresses are one of our much coveted and favourite winter trends this chilly season. As a timeless epitome of wintry elegance, long elegant sleeved dresses speak of enchanting sophistication.
When choosing the type of sleeve, always take your shape into consideration and make sure that whatever you settle on, ultimately flatters your unique form. If you have chubby arms, you might want to opt for sleeves that are slightly flared at the wrists or elbow to create a sense of balance, rather than tight-fitting wrist-length sleeves.
Sleeves can really be of any chosen length – from mid upper-arm and three-quarter to right down to the wrist, depending on personal preference and, as mentioned before, arm shape. The general rule of thumb is to choose a length that cuts off at a slender part of your arm to draw the attention away from the bigger sections.
A lovely way to still maintain a little part of that original summertime dream is by playing around with various types of fabrics so that the summer dress torso shape is still recognisable. For instance, opt for a sleeveless silk dress with long lace sleeves or a V-neck cotton dress with sheer arms and extended neckline.
If you're quite taken with the idea of sleeves, but feel that a sleeved dress might be somewhat limiting, then there's always the option a slim-fitting wedding jacket. This stylish addition has all the elegance and warmth of a long-sleeved dress, with the freedom of taking it off when things start to heat up on the dance floor.
Check with our bridal wear companies for more ideas on how to pull off a sleeved dress that suits your body shape and style.
For more Sleeved Wedding Dress Ideas, the original photos and their credits, make sure to check out our Sleeved Wedding Dresses Pinterest Board!