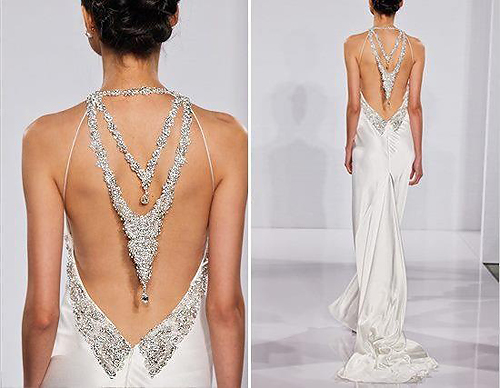 At the recent New York Bridal Week gowns with beautifully designed backs could be seen on every second catwalk, and we couldn't be happier! After all, a wedding dress is not just two dimensional and your guests will be seeing you from every possible angle, so why not make the most of it?
Low-cut backs are very much in fashion this season and if you have a beautiful slender back, it would really be a sin not to go all out and flaunt it. However even something as simple as an open back opens the door to a number of possibilities, such as:
The scoop back. Just like you get scoop necklines, there's also the scooped back dress which is simply stunning if you're looking for something soft, simple and elegant.
Play around with the cut. A round cut is more timeless, while a patterny cut is more arty and enchanting. Then of course there's the ever-popular cut that peaks at the small of your back is a little more contemporary and edgier.
Consider wearing a necklace that hangs down your open back, rather than down the front.
Adorn the neckline, or rather back line with beads or sequins.
If you're skinny enough to pull of an open back, but afraid of showing too much spinal cord, have the designer add a thin strip of detailed fabric down the middle of the open back.
We're loving the high-cut neckline with the peep-hole at the back, reminiscent of the prim and proper 1950s.
If you're not at all intrigued by the idea of showing your back, here are some ideas for decorating a higher-cut back:
Corsets are and will probably always be in fashion and he ribbon is the ideal way in which to introduce a little colour into your wedding ensemble.
A single row of pearl or fabric covered buttons down the back is very trendy at the moment and is a simple and practical yet still elegant way of adorning the back.
Bows and fabric flowers add a lovely and whimsical touch of elegance to the gown.
Nothing is sexier than sheer fabric such as chiffon – showing skin without really showing skin – and it's ideal if your back isn't as perfect as a runway model's.
Alternatively cover the back with lace which is daring, sophisticated and timeless all in one.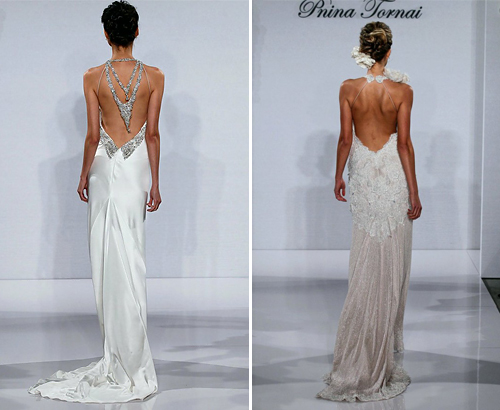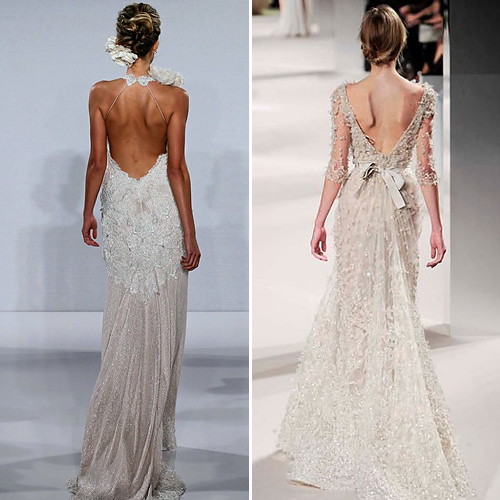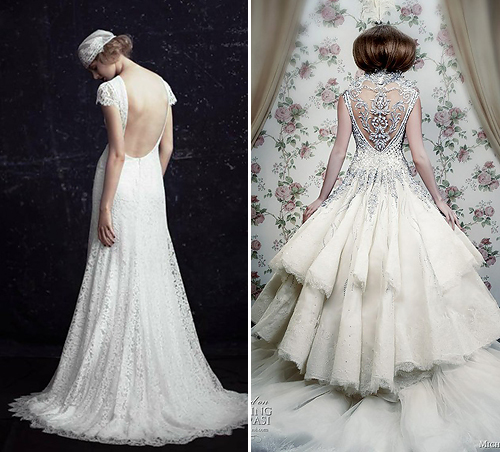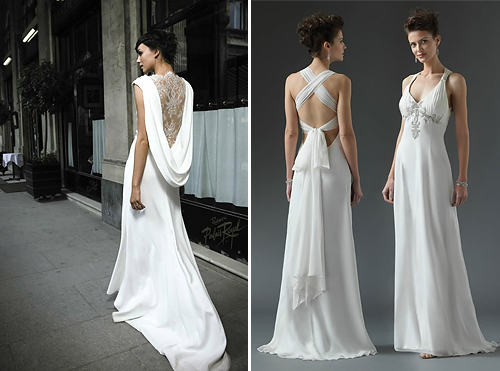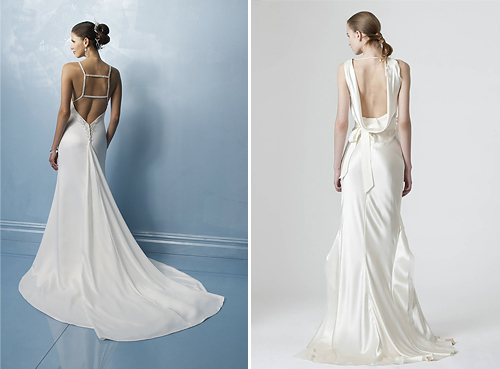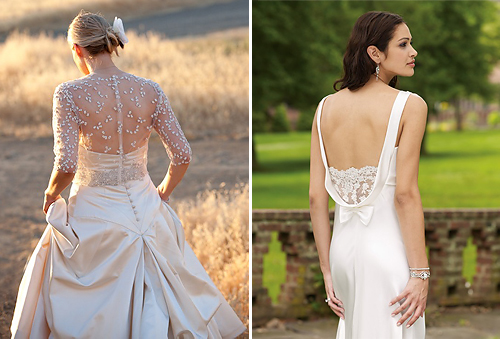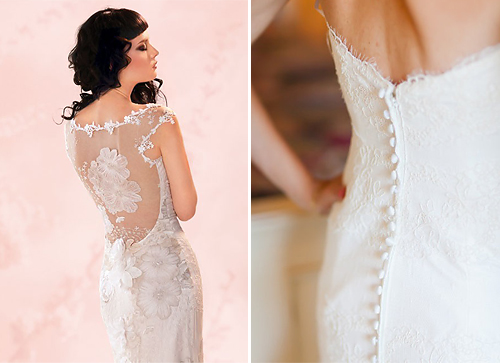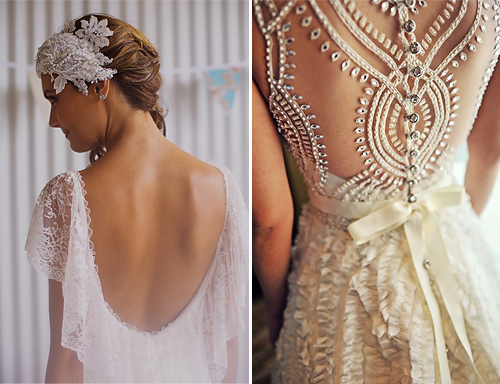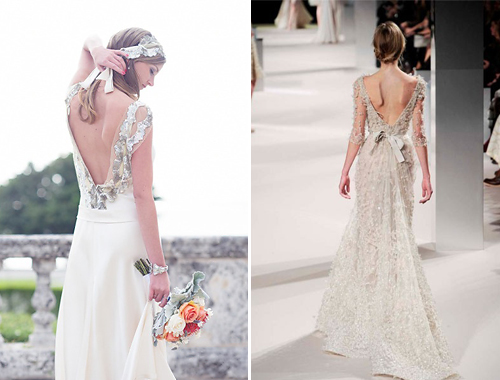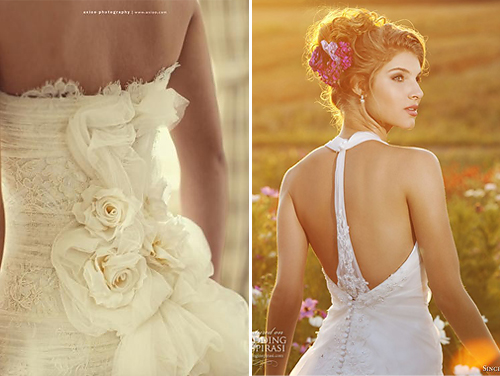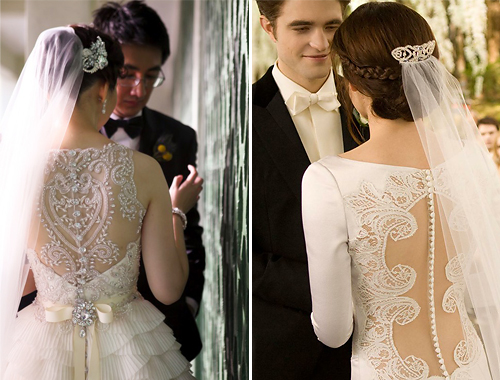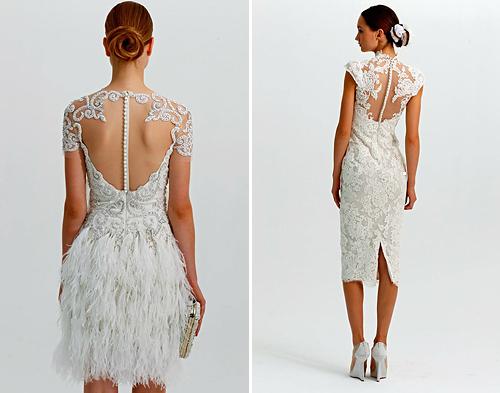 For more ideas on Wedding Dress Back Ideas or to check out the original photos displayed above and their credits, make sure to check out our Wedding Dress Back Ideas Pinterest Board!