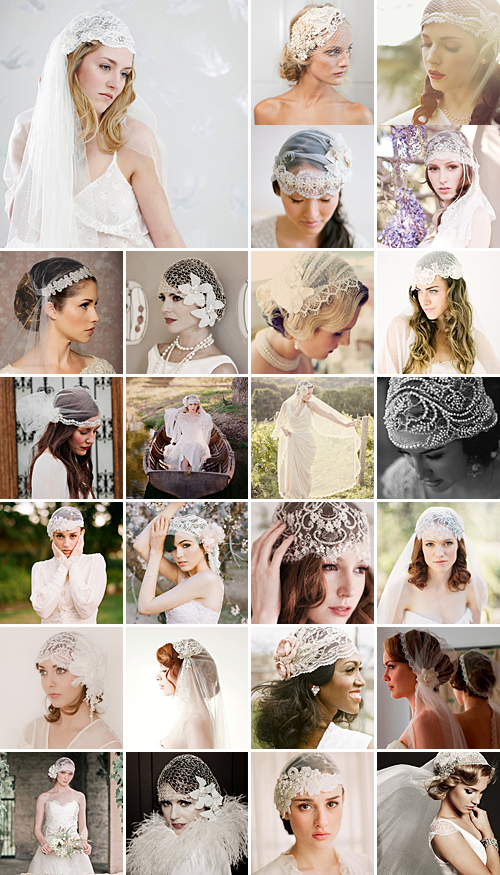 For a long time the bird cage veil has stolen all the vintage shine, but finally the time has come for the cap veil to take its rightful place in the lime light. This lovely adornment is a bit more lavish than the typical veil and should best be worn with a relatively simple vintage inspired dress.
This exquisite head dress can be worn in a variety of lengths – from long cathedral length to a tiny wrap-around veil with no trail whatsoever. What we really love about the cap veil, is that the cap section allows for so much more embellishment and detail than a normal swooping veil. Decorate it with beads, crystals, lace, feathers – whatever your heart desires! As long as it has "vintage" written all over it, you're good to go.
In many cases the cap can be separate from the trailing veil section, which means that the train can be unhooked after the ceremony and the head dress can be worn for the reception. Cap veils are also ideal for winter months, when the wind turns hairstyles into carnage, as the veil helps to hold the hair in place.
Be sure to pair the veil with a vintage inspired hair style so that the two completes each other, and steer clear of long dangling earrings – too much bling is not a good thing. Also consider the neckline of your dress, as this falls in the same visual space as the cap veil – try to keep it rather simple.
As a word of advice – if you have a fairly round face, it's best to steer clear of a cap veil as this might make your face look even rounder. Alternatively, choose a cap veil with a longish train or wear your long locks down instead of up.