TOP 10 Wedding Dress Trends for 2015
To stand a chance of winning a R10 000 Bride & Co. voucher towards a wedding dress of your choice, watch Bride by Design and Curvy Brides on TLC Entertainment and leave a comment below telling us about the best advice you have received so far.
We've already given you some tips for wedding dress shopping, now, with the help of TLC Entertainment (DStv 172) it's time to asses some of the major wedding dress trends.
From plunging V-necks, low backs, jumpsuits and even black dresses, some of TLC's experts including Randy Fenoli from the popular series Say Yes to the Dress, exclusive wedding dress designer Heidi Elnora from the new reality show, Bride by Design and sisters Yukia Walker and Yuneisia Harris from the series Curvy Brides share some of the top wedding dress trends for 2015.
Everything!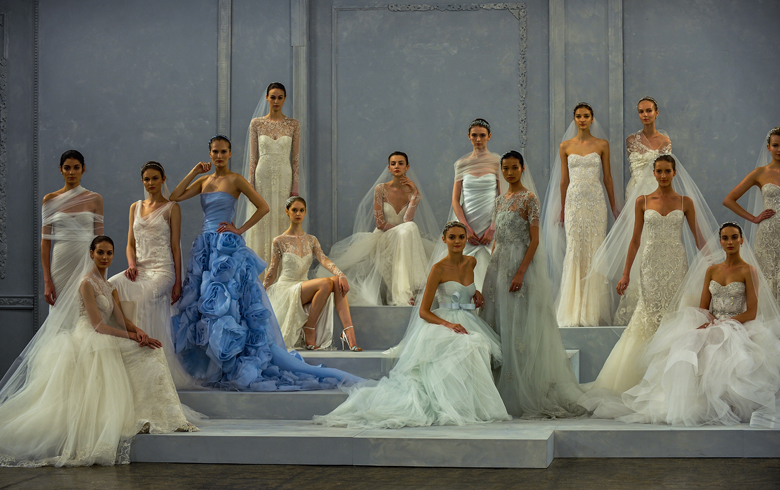 "There's something for everyone," says Randy. Whether you prefer a look that's more classic and traditional or modern and trendy, there are a variety of trends that will suit your style and body type. "If you want to look like Cinderella with a humongous tulle ball gown, if you want to be really glitzy and blinged out, there's plenty of dresses that sparkle, if you want to be sexy there's dresses with see-through-bone corsets.  If you want to be Bohemian there's dresses that look like they just walked out of the forest, very simple and garden like, if you want to be understated there are the traditional dresses. I think that really the trend is everything, so that every bride can really express who she is."
V-fronts
While the 2015 brides are all over the place, one of the main trends that they are going for is a low V-front neckline. "You're going to see tons of low V-fronts on the runways and in magazines. Everything's more ethereal. It has a bit of magic to it. You'll see a lot of that. You'll see a lot of lightweight fabrications. But definitely the big trend that I showed in my last collection as well as what I've seen with other designers is the plunging V-front," says Randy.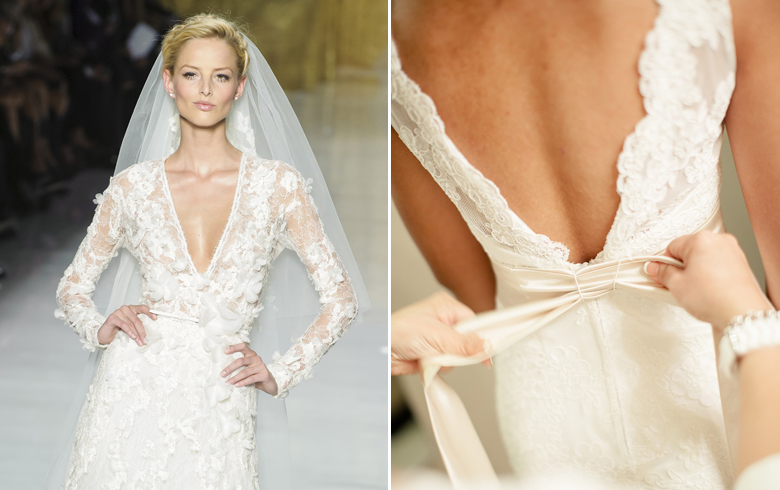 Low backs
Girls really want to show off their bodies in a different way so another major trend which Randy has seen is low backs. "Really sexy low backs have become very popular and the reason for that is because designers are doing a lot of non-strapless dresses so with a non-strapless dress you can go with a really low back but if it's strapless you can't go with a low back because it won't stay up."
Crop tops
Crop tops are also everywhere and definitely a major trend for spring and summer 2015 according to Yukia. "In the New York market we saw a ton of extremely low back gowns, I mean peek-a-boo back gowns and also the crop top wedding gowns are certainly in," she says.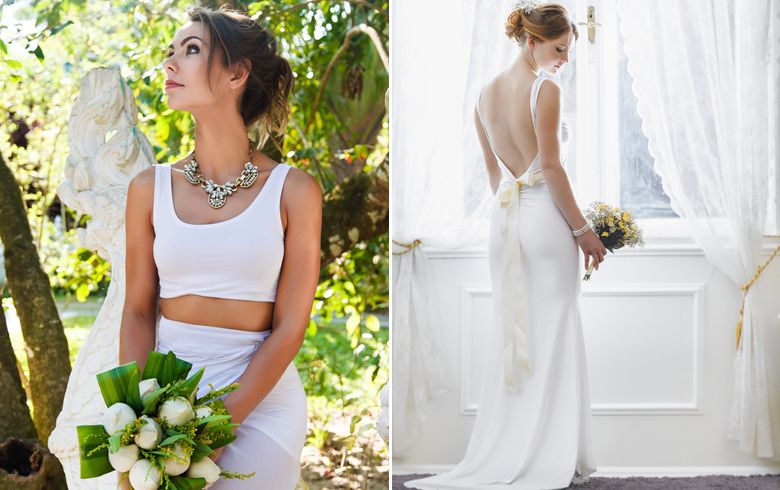 Shorter trains
Randy explains that the trains on dresses have become a lot shorter. "This is because brides are thinking much more about the reception and partying and dancing all night and they don't want to carry around a real heavy bustle all night at the reception."
Layering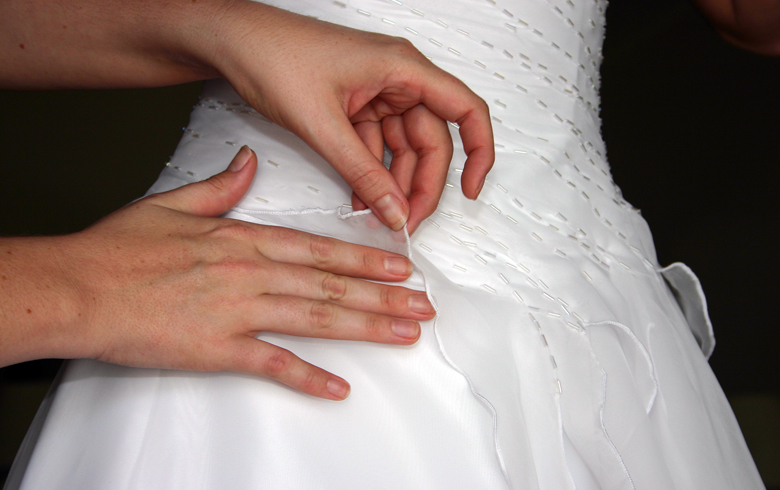 "Layering has become very popular like maybe you'll have a layer of lace and then over that you'll have a layer of tulle and then a layer of beading and then maybe another layer with appliques so that's become very popular," says Randy.
Jumpsuits
"We have a wedding jumpsuit in our store currently and it is very popular, we have a lot of brides who like to wear for either a courthouse or a low key wedding or they like to change into it for their reception, so I think wedding jumpsuits are really popular right now and are hot and on trend," says Yukia.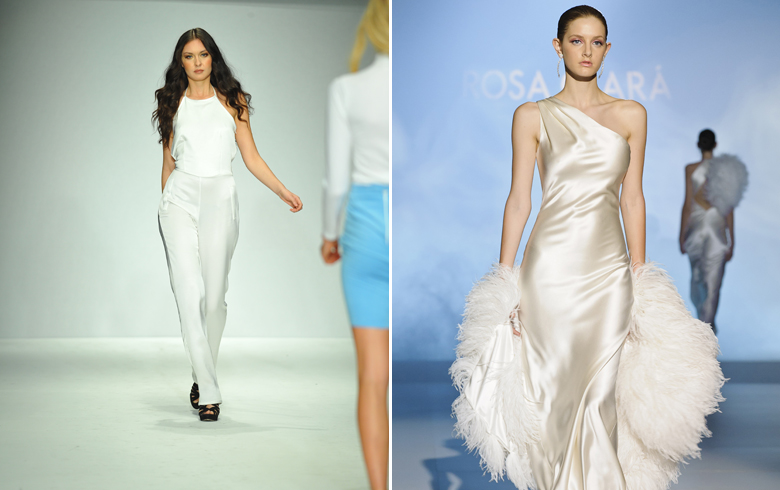 Mature style
"The Cinderella movie came out this year so you may see some princess brides, but for the most part, I think the bride that is getting married today is a little more mature and she is a little more connected to the internet and social media and fashion and style and I think she is going to want a slimmer dress rather than a big poufy Cinderella dress even though I think there will be some of that this season just because of the movie," explains Randy.
Blush tones
Having been at the most recent bridal wear shows, Heidi says blush tones are definitely another major trend. "There was a lot of nude and pale pink tones. So it's very much on trend in terms of spring."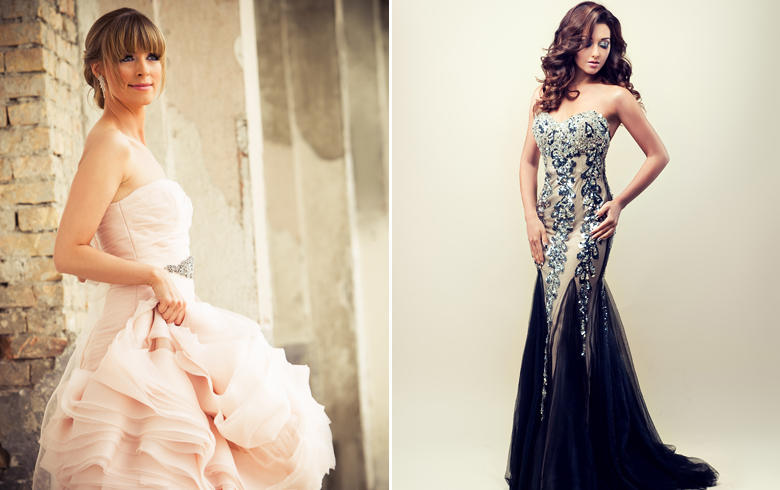 Bold colours
Looking ahead, bold colours will also become increasingly popular. "This fall I am wanting to showcase a lot of navies," continues Heidi.
Yukia and Yuneisia agree, "In our store you'll see a ton of different colours, even down to black wedding gowns, it's actually a trend this year, I think brides are starting to step out of the box and they really want to showcase who they are.  The traditional white wedding dress doesn't always stand for what it used to stand for back in the days, I think girls are understanding that and they're open to being more expressive of who they are.  I love colour and you know a lot of colours are hot now - gold, metallic golds and everything,"
shares Yukia.
For more inspiration, catch new and exciting programming every Sunday from 18:10 onwards with TLC Entertainment's (DStv 172) 'Wedding Season' themed month.
To stand a chance of winning a R10 000 Bride & Co. voucher towards a wedding dress of your choice, watch Bride by Design and Curvy Brides on TLC Entertainment and leave a comment below telling us about the best advice you have received so far.