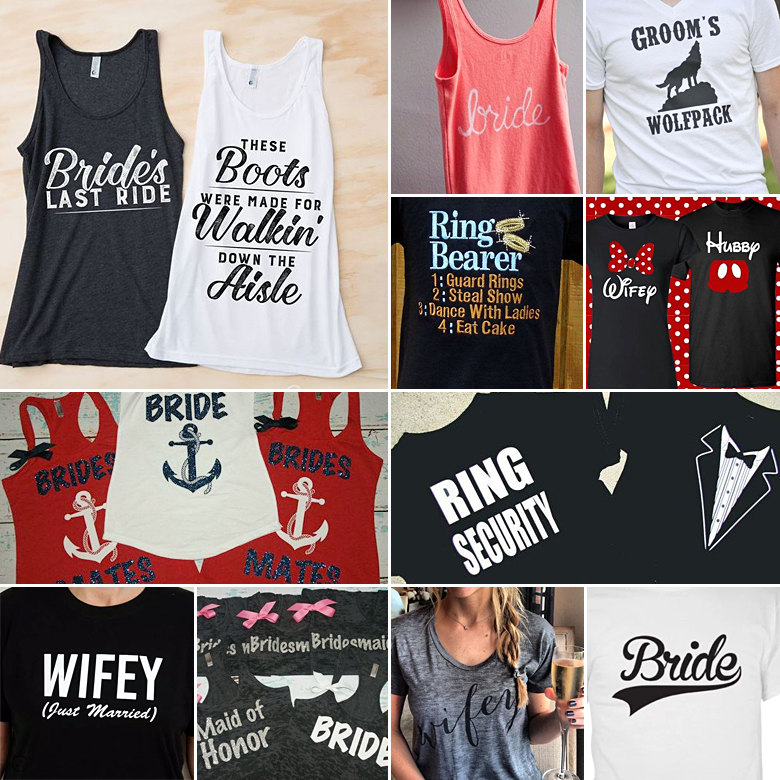 There's more to the wedding than just the actual day. Since you're planning on only doing this once in your life, it's important to make the most of this special time. Wedding t-shirts are an excellent way to add cheer to the wedding month and make you and your entourage feel extra special.
Whether you paint or make them yourself, or buy them from a wedding shop, wedding t-shirts should be fun and quirky – especially if the wedding day is going to be more traditional and formal.
Here are some of the key members who you can spoil with a t-shirt of their own:
The bridal couple: Obviously! After the wedding your bride and groom shirts can become your comfortable sleepwear.
The bridesmaids and groomsmen: Choose fun and flattering shirts that they can wear at the bachelorette/bachelor's party as well as while they're getting ready for the ceremony.
The parents of the bride/groom: The wedding day is a special time for them as well, so this is an excellent way to ensure that they feel included.
The ring bearer/flower girl: Oh, the horror of finding them covered in mud or rolling around on the grass in their wedding attire! Wedding t-shirts are the ideal in-betweener for before the wedding.
SHOP WEDDING T-SHIRTS
The requested RSS feed cannot be loaded at this time. This XML document is invalid, likely due to invalid characters. XML error: Undeclared entity error at line 22, column 147
Original images and their credits available on Pinterest