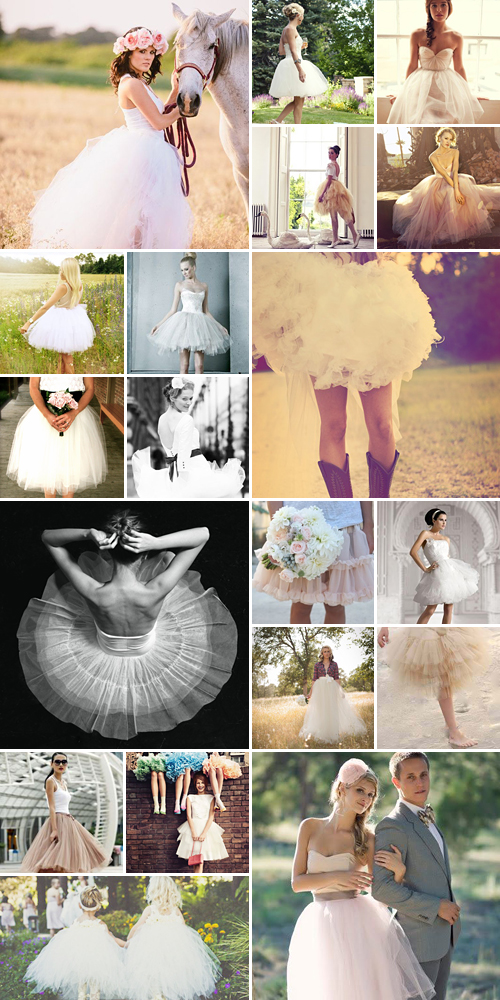 Tutus are making a fabulous comeback, not only as dancewear for a formal ballet, but as gorgeous options for girls and ladies, particularly in terms of wedding attire. They are romantic, flirty and uber whimsical. In addition, they are now available in an endless variety of lengths and colours, so that they are just as flexible as any traditional skirt.
The bride herself can wear a long, layered tutu below a fairly plain, feminine bodice. This is dreamy and fairytale-esque, creating a really gorgeous gown that will leave her feeling every bit as "princess" as she deserves. If you are having a daytime wedding, or a celebration that is less formal, you can opt for a shorter tutu. The colour of the tutu should match that of the bodice. A pair of white or pink ballet pumps under the skirt will finish off the look to perfection.
Shorter tutus (mid-calf or knee-length) can be worn by the bridesmaids and the maid of honour. In fact, they can wear these even if you, as the bride, do not don a long tutu as part of your gown. Depending on the length and style, they can wear flat pumps or heels with their tutus.
There is no doubt about the fact that toddlers and young children look simply adorable in short, flared tutus. It brings out their playfulness and innocence. Expect plenty of twirling from your flower girls as they delight in the natural movement of their netted tutus and how it makes them feel.
In terms of your décor, you can incorporate the look and feel of your tutu theme by using romantic netting. Layer it around the seat of your chairs to make them look like they are each wearing a cute tutu, and drape netting across the tables, for example. Hang lamps from the ceiling and have shades custom-made to resemble tutus; like ballet dancers hovering over your guests.
Original images and their credits available on Pinterest