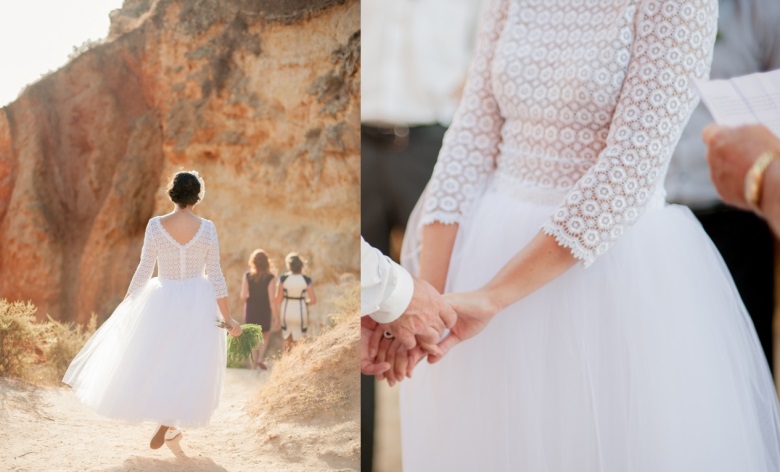 The year 2011 introduced the love of all things frilly, including whimsical tutus. This trend was not limited to wedding décor or the fashion catwalks of the world, but was also very prominent on the wedding scene. And we're so really about that, since this is one of the prettiest and most versatile trends to date!
Frills symbolise all things feminine, dreamy and just plain sweet. They can be big or small, simple or elaborate. This makes them really flexible; suitable for a so many different purposes within one unique wedding theme – frills and flounces.
Invitations
Use frills and netting in your wedding invitations so that your guests get a clue about your gorgeous wedding theme. This can be in the form of literal netting glued around an invite made from card, or it can be dye-cut to resemble frills and lace for a more budget-friendly alternative.
Wedding Attire and Accessories
Use frills in your wedding gown (in the form of layers, lace or an entire tutu skirt), the bridesmaids' dresses, and the groomsmen's dress shirts. For the frilliest option of all, tutus are very trendy. Choose accessories that are adorned with frills or styled to resemble frills. In this way, your shoes, veil, jewellery and hair accessories can all echo your theme in style and feminine fun.
Dress bridesmaids and flower girls in sweet tutus. For the older girls in your entourage, choose longer, flowing tutus for a more formal look. Little girls look irresistible in any kind of tutu, regardless of how formal or relaxed your wedding is going to be.
Décor
Be careful not to over-use frills and lacy layers in your décor, as it can become stifling and, as a result, ineffective. Use netting and flowy fabrics on your tables and chairs to establish the cute theme and hang lamps with tutu shades above each table, or use giant white feathers as a romantic lampshade instead. Add frills to the fabric items of your décor, such as napkins and table runners. If you want to keep the décor romantic and whimsical, keep your frills in muted pastels. However, even a really modern, cutting edge theme can be achieved by using vibrant colours, perhaps even neons.
Food
Create the most beautiful wedding cake by using fondant to add layers and layers of frills to a plain white number. Of course, when it comes to food and beverages, there really is no limit to the number of ways that you can decorate and garnish the items on your menu to express the frilly theme. Get creative with frilly lettuce, edible rice paper and colourful petals.
By keeping your ruffles and tutus tasteful and not overdone, the groom and his entourage aren't going to feel like they've crashed an all-girl event. So, when opting for this theme, pay attention to including some masculine elements and neutral colours.
Photo Credit: glitterinc.com