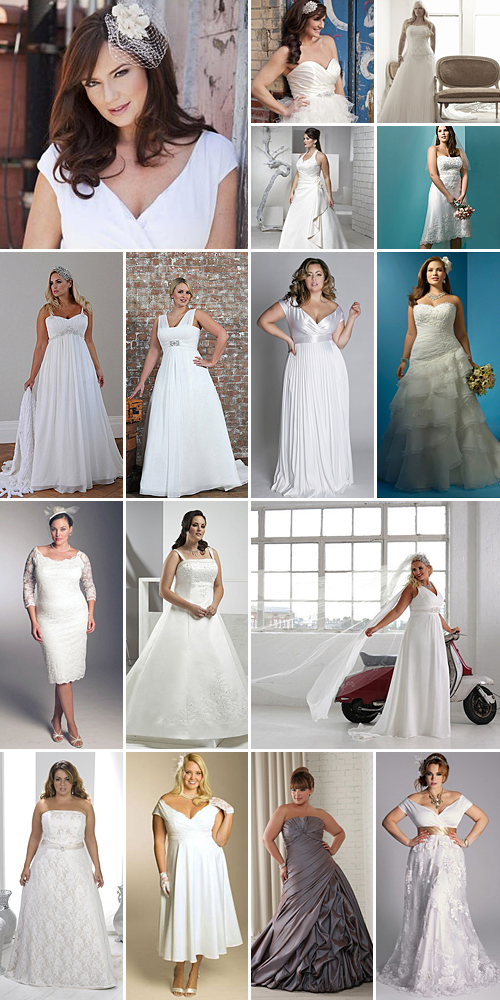 Put down that wedding magazine with the skinny unhealthy-looking supermodels gracing its glossy pages, because natural curves have never been sexier. When it comes to choosing a wedding dress, you shouldn't feel even slightly insecure about the bit of bulge around the belly or shoulders. After all, who doesn't have a few unwanted curves? Come your wedding day, it's important to push all insecurities aside and embrace your inner beauty in a dress that makes you feel beautiful and comfortable, regardless of what's printed on the label.
While you shouldn't limit yourself to a particular style, a full-figured bride definitely can't go wrong with one of the following dress styles:
A-Line: A dress or skirt silhouette that is narrower at the top, flaring gently toward the bottom. The cut works well on most figure types and is great for disguising bottom-heavy figures.
Princess Line: A princess line dress is a more dramatic take on the A-line cut. The style highlights the bodice portion of the dress by using linear seaming and panels that start from the neckline of the dress and continue to the hem.
Empire Style: This style is characterised by the waist line which is sometimes as high as below the bust, from where it flares out to conceal any problem areas around the belly or thighs.
Just because you're a little more full-figured doesn't mean you have to veer away from your dream dress altogether. All it takes is a few minor alterations and perhaps a small compromise or two to make your ideal dress work for you.
If you have a large waist, consider dropping the waist line slightly to create the illusion of a longer and slimmer upper body.
Use splashes of colour, beading and detail to draw the eye away from your problem areas.
Shorter veils have the tendency to make your neck and upper body appear shorter and wider, so choose a longer one instead.
Semi-translucent fabrics such as chiffon and lace are super sexy and allow you to still have that strapless dress or desired peep-hole, to a certain extent.
There is the assumption that a tightly strapped corset will make you look skinnier. However this is unfortunately not the case. Rather opt for a more flowing creation that doesn't cling to your body.
Rather opt for a bigger size than choosing a dress that's too tight and results in the muffin-top effect.
Choose a biggish bouquet that's in proportion with your body and either long-stemmed or cascades down.
Avoid sheath style dresses that is shaped by the contours of your body. Instead opt for a thicker fabric that almost shapes itself and provides more structure.
In the end there's really nothing as beautiful and stylish as confidence, so whatever dress or style you choose, make sure you're comfortable so that you can radiate your inner strength and beauty.
For more Voluptuous Bride ideas, the original photos above and their credits, make sure to check out our Voluptuous Brides Pinterest Board!