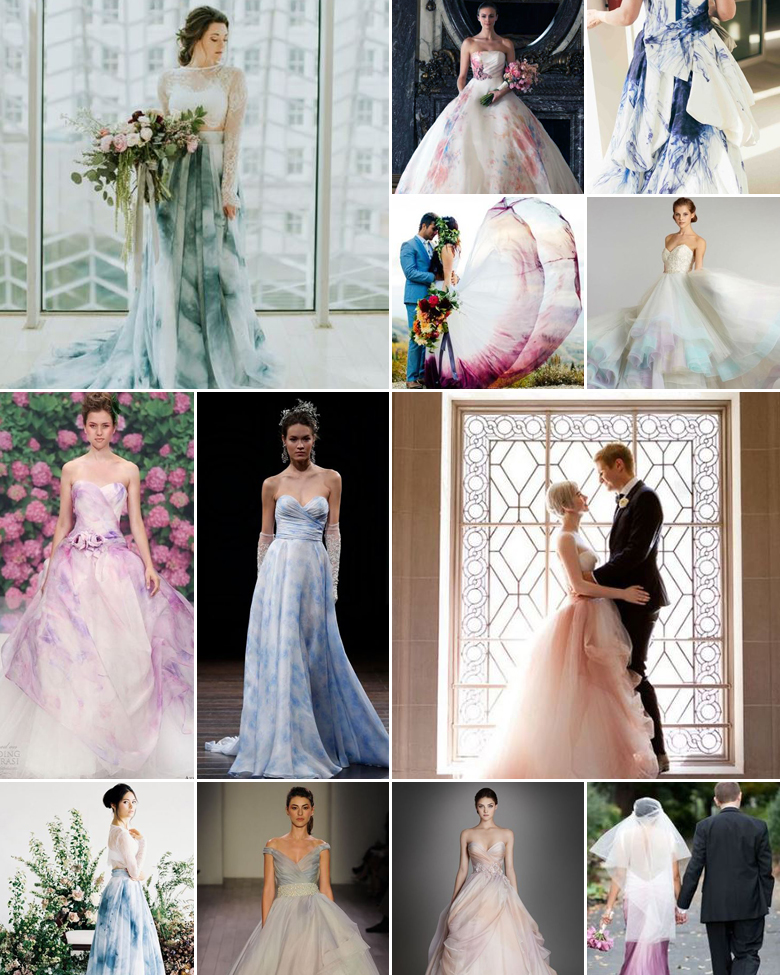 Soft, mesmerising and oh-so feminine – in fact, it doesn't get more breath-taking than this! We're of course talking about watercolour wedding dresses. Tainted with arbitrary flecks of pastel colour, these gowns are everything a pastel-loving bride could dream of. Then again, you don't necessarily have to stick to pastel – go wild! Choose bold, bright colour! Embrace the theme!
For starters, you could keep it very abstract with a splash of mixed colours swirled all over your wedding dress. Alternatively, keep it simpler with one or two colours, with bits of white peeking through here and there.
Another option is to go the less abstract route and cover your dress in watercolour images – for instance flowers, murals or landscapes. You also don't have to cover every inch of the dress, and a simple water colour flower here and there could make just as strong a statement.
A lovely way to match the bridesmaids' gowns to yours is by opting for solid pastel colour dresses that mimic the colours splashed over the bridal gown.
While a watercolour dress on its own will make quite the statement, there's no reason why you can't take it a step further. Incorporate watercolours into your wedding stationery, and cover the guest tables in watercolour tablecloths or runners.
Original images and their credits available on Pinterest