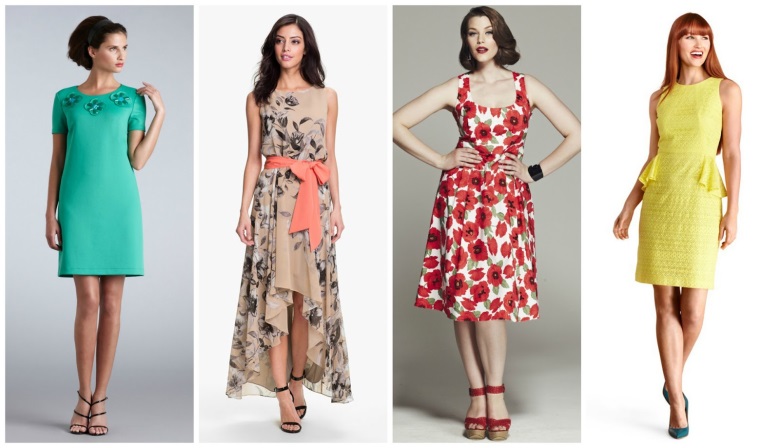 Outdoor weddings are a great option, particularly in countries like South Africa and Australia, where the weather can be fabulous. In fact, very cold, wet weather is the exception, rather than the rule. However, the style, length and fabric of your wedding dress will play an integral role in just how comfortable you feel on the day, particularly since you are more susceptible to the elements and their effects than those having an indoor celebration. Feeling comfortable is essential as it will allow you to enjoy your day more fully, unhindered by the heat or cold.
Summer
Because you will no doubt already be a little nervous, you are likely to sweat a little more than usual on your big day. Therefore, your dress should be made from very light, airy fabrics that allow the air to flow through them more easily. Silk and chiffon are good examples. Not only will these be cooler, but they are also less constricting. Popular styles for summer weddings include strapless dresses, and gowns that only have one sleeve. Another popular trend that has recently emerged is the advent of shorter wedding dresses. These can be knee-length, giving an elegant look; mid-calf, reminiscent of 1920's tea parties; or short, for the sexy, daring bride. An up-style in your hair will go a long way in keeping your neck, shoulders and back cool.
Autumn
As the days are warm, but beginning to cool, and the nights become rather chilly, your dress will need to be accommodating so that you are comfortable for the entire duration of your wedding celebration. Heavy fabrics will ensure that icy winds do not penetrate your gown and freeze you, while maintaining a strapless or one-shoulder look will still keep you comfortable while in the sunshine. Consider having a Pashmina, lace jacket or sash to wear in case you become very cold (particularly when waiting for your wedding photographs to be taken). Consider leaving your hair loose for extra warmth on your back, and a natural, autumn look and feel.
Winter
Take advantage of the cold weather to indulge in opulent, warm fabrics, long gloves and heavy bridal accessories. For added warmth, consider a feather boa or a fake fur shawl. Keep you colours in line with the winter theme (e.g. white, silver, grey, light blue), and go for fairytale magic, rather than an earthy, natural feel. Hair can be up or down. An up-style is usually considered to be more formal, while loose hair can create an "ice princess" look, if done effectively. Ensure your guests are comfortable by offering knee blankets.
Spring
Spring weddings are very popular. Spring promises warm, fresh days with plenty of sunshine and little wind. It is also considered to be a time of natural abundance. Your dress can be made of light, luxurious fabrics that move with your body. Opt for a fabric with a bit of a shine for a more elegant look. Mid-calf dresses are perfectly suited to spring weddings, and this time of year allows for the use of colour more than any other season. This can be in the form of a coloured sash, fascinator, shoes, jewellery, and so on. As with autumn, you may still become a little cold, especially when leaving the reception or waiting outside for your photographs to be taken. Therefore, have a shawl or sash available.
Photo Credit: cherrymarry.com