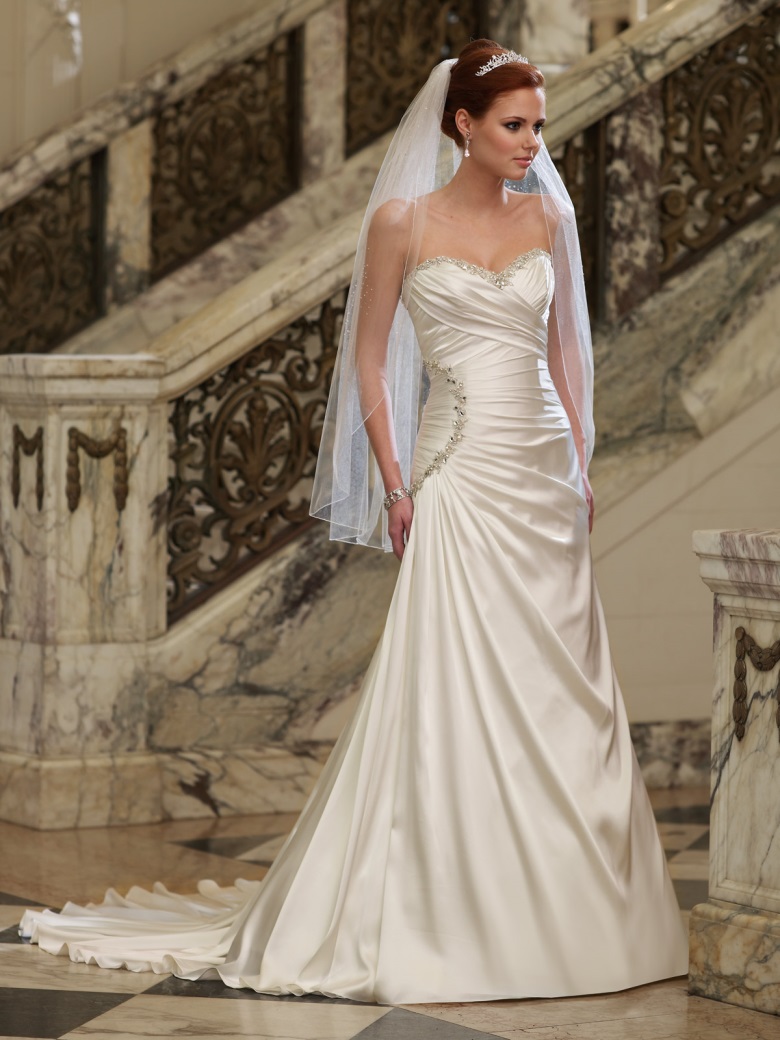 For some of us, what to wear is never an issue, but most of us probably agonise about what to wear, and even when the choice is made, lose sleep over the decision. What you wear is really up to you. You can wear anything, as long as you have the confidence to pull it off and you remember that what you wear sets the tone of the whole wedding – if you're formal, others should be too. There are obviously a few guidelines that will narrow down your choice of wedding gown:
Time of day – is it an evening wedding, breakfast or tea? Daytime weddings, as a rule, tend to be less formal and a more 'casual' approach to apparel can be taken, whilst evening weddings can encompass the whole shebang – black tie, braids, satin, cummerbunds, waistcoats and pocket handkerchiefs.
Type of wedding – obviously a church wedding tends to dictate a customary floor-length gown that isn't too revealing; if you're having a garden wedding then putting flowers in your hair and going for something that will look delicate and ethereal is a suggestion. And if you're vamping it up and going gothic, then the sky's the limit and a purple gown isn't out of the question
Colour – most brides tend to opt for white or ivory, sometimes even champagne, but there is a range of beautiful subtle colours you can choose from that can create a seriously dramatic effect. And the same applies to the material you use, be careful that it won't crease unduly and that it gives when you move.
Design of gown – this is when you need to take a seriously objective look at your figure and decide what style of gown will flatter you best – not everyone looks good in the full, gathered skirt of a meringue-style ballgown! Wedding gowns are there to make you look drop-dead gorgeous and the empire-line gowns, sheaths and A-line silhouette can be incredibly flattering on the right figure. Pop into a wedding dress hire and try on a few first, before you make the final decision.
The budget – a lot of money doesn't necessitate good taste. You don't need a big bank balance to look great. There are many alternatives to buying a designer wedding gown:

Have your wedding dress made
Hire your wedding dress
Give your mother's or grandmother's wedding dress a whirl down the aisle
Buy a wedding dress on e-bay
Dressing the groom
Just what does the groomwear? Most of us don't know our white tie from our lounge suit, so here's a quick whip through what's what:
Black tie is the same as a dinner suit, traditionally worn for late afternoon and evening weddings. It's dressing in style, and if you do so, you should inform your guests that it's a formal wedding – black dinner jacket, ribbed silk lapels, tapered trousers, cotton or silk shirt with pleated front, turn-down collar, bow tie, waistcoat and pocket handkerchief. Black shoes.
Morning suit – preferred by grooms at most times of the day but normally worn at weddings before 3pm – blue, black or grey tailcoat with matching or contrasting trousers, plain or pinstriped, white wing-collar shirt, waistcoat, cravat, top hat (might be a little over the top).
White tie – for formal occasions – black evening tailcoat, black dress trousers with white waistcoat, dress shirt and bow tie.
Photo Credit: www.ethosbridal.com