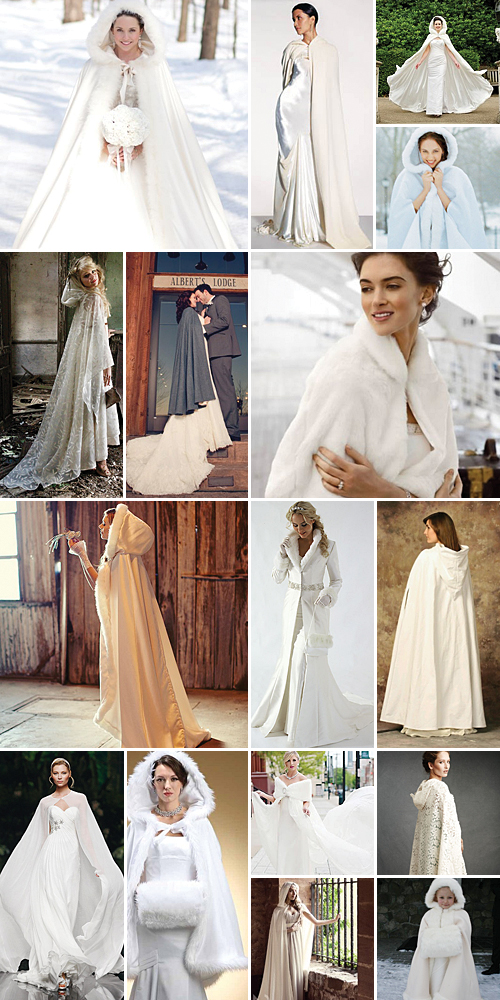 Is it a bird? Is it a plane? No! It's a breath-taking bridal beauty in what is most certainly a cape. With winter having arrived in full wind and wonder, a warm snuggly cape is the perfect way to winter-ise your wedding dress. Made famous by Little Red Riding Hood, capes are prevalent in most fairy tales and usually worn by a princess or runaway damsel like Snow White or Rapunzel.
The fabulous thing about a glamorous cape is that it allows you to show off your summer-lovely dress while still keeping your teeth from clattering. It's as easy to slip on as it is to slip off and its lack of sleeves means no un-lady-like struggle to get it off before the first dance.
Capes can vary in length – from long, sweeping and dramatic capes that practically trails on the floor behind the beloved bride, to a cutesy elbow-length cape to warm the neck and arms. Make sure that the length of the cape complements your wedding gown and body shape, and more importantly that it doesn't obscure too much of the dainty dress detail. Alternatively, you could opt for a simple and elegant wedding dress and adorn the cape with all kinds of beads, crystals, lace and prettiness.
Next it's time to choose the fabric for your fabulous cape. For an autumn wedding, a light fabric cape made of lace, chiffon or cotton is more than sufficient; however in the freezing chill of winter, you can't go wrong with a stylish fur cape. We also love the idea of a simple wool or fabric cape with fur lining the edges – very ice queen chic. Whether the cape has a hood or not is completely up to you, though you cannot deny that a Snow White hood makes for spectacularly whimsical wedding pictures.
Toss the veil and don a cape, for this winter, it's off to the royal ball, milady!
For more Wedding Capes, the original photos above and their credits, make sure to check out our Wedding Capes Pinterest Board!