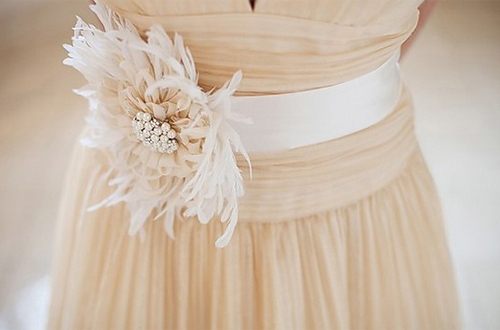 Sashes are a fun, striking and sophisticated means of adding a dash of colour to any dress, even as a last minute resort. This simple element is probably the most affordable accessory with which to jazz up a simple dress while also accentuating and flattering a slim and shapely midsection.
If vibrant and extravagant splashes of colour is not really for you, a white sash of a contrasting textured fabric such, as lace or crochet, can be all too lovely. Alternatively, if you're wearing a crisp white gown, opt for a cream of ivory sash to create a unique and subtle colour ensemble.
When it comes to bridesmaids, the sash is a great way of incorporating an accent or secondary theme colour into the outfits and the sash can be chosen to match their shoes, head band or bouquet. In the case of off-the-shelf dresses, a simple sash is the ideal means of personalising the gown in a way that makes it tie in (excuse the pun) with the wedding theme as a whole.
The height at which the sash is tied around your waist is of vital importance and can ultimately determine whether your dress will flatter your body type or fit like a mechanic's overalls. While a petite bride can get away with tying a sash at belly-button height, a bride with a broad waist should opt for a dress with a dropped midsection, and in many cases even steer clear of sashes altogether to avoid drawing the eye to that particular problem area.
Sashes are an incredibly simple element to make or have made, and are really rather versatile so always have a few extras on hand. These can serve as last minute table runners, bouquet ties, chair decoration and even head bands for the bridesmaids, to name but a few.
Take a look at some of the beautiful wedding sash ideas below.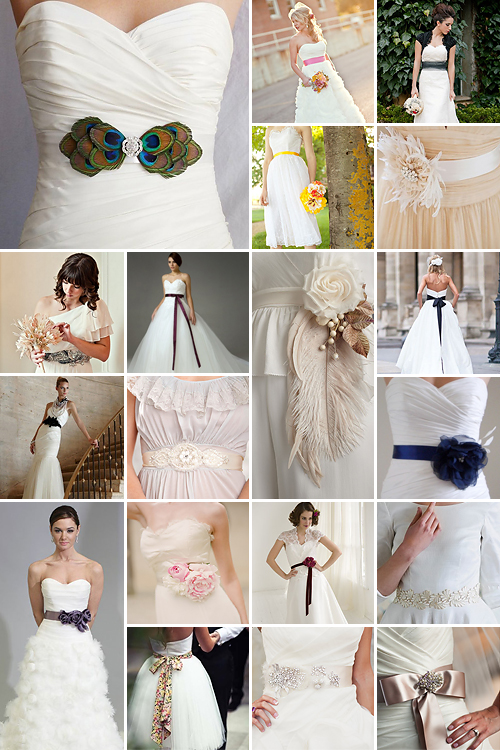 For more ideas on Wedding Dress Sashes or to check out the original photos displayed above and their credits, make sure to check out our Wedding Dress Sashes Pinterest board!