Wedding Dress Trains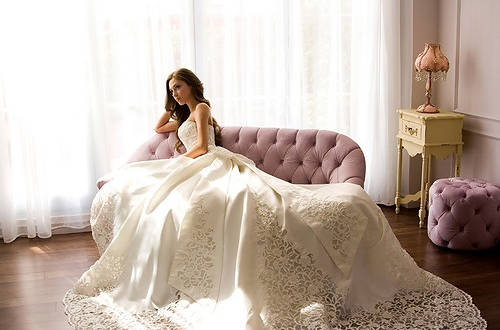 The wedding gown is a beauty in itself, but there is something so regal, elegant and dramatic about including a train (where the dress extends beyond floor length and trails behind the bride as she walks). The origin of the train is believed to have been when kings and queens of yesteryear tried to emulate the majesty of the peacock, whose tail feathers trail behind him in a stunning display of the unadulterated beauty of nature.
Traditionally, the train is made from the same sort of fabric as the dress, is the same colour, and is worn with a dress that reaches the floor in the front. However, there are no rules. If you are a creative, modern bride, you may choose to experiment with having this part of your dress in a different colour or textile. You could have a short dress in front with a floor-length (or even longer) train behind you. Or your train could be made from something completely different – like strings of felt hearts, feathers, lace, pom-poms or ribbons.
Remember that trains can become quite a liability when dancing and mingling with your guests as you or they may step on it and trip. This is especially important to remember if you are hiring your dress, as it is very likely that you will tear the train. So, consider having a detachable train or putting a loop on the train that can be hooked on your finger so that you can carry it comfortably as you walk or dance.
Have a look at our gallery for some more ideas:
For the original photos from above as well as the credits AND more Wedding Dress Train ideas, make sure to check out our Wedding Dress Trains Pinterest Board!