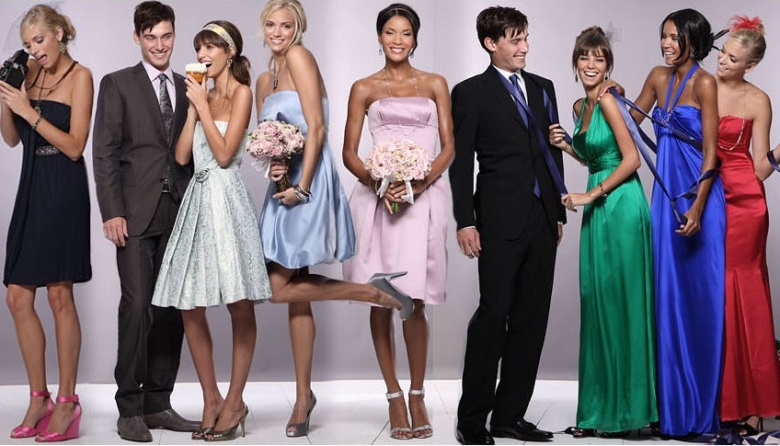 Modern weddings tend to be less formal than those of yesteryear, when this was one of the few events to which guests could really get dressed up. Still, this is a very special occasion and gives friends and family members the opportunity to celebrate it in style. If it is not stated whether the wedding will be formal, casual, etc…, guests can get a fair idea simply by looking at the style of the wedding invitation and the time of the wedding. If the invitation is ornate and detailed, using bold or regal colours, it is safe to assume that the wedding will follow a similarly 'grand' style.
If the couple has opted for pink and orange stripes with a fun font, the wedding will likely be more casual. Likewise, a daytime wedding (before 18h00) is usually more relaxed in terms of a dress code than evening weddings (after 18h00). Even the wedding venue will provide some clues. Obviously, what guests wear to a beach wedding will be very different to their attire at one held on a 5-star vineyard estate.
However, the following rules should be followed if the invitation states the style of the wedding:
Semi-Formal
This means less than formal, but much more than casual. Colour coordination is key to creating a smart but comfortable look. Men can wear a dress shirt, tie and chinos (jacket optional) with stylish shoes, while women will look great in a knee-length or full-length dress and a Pashmina or shawl over their shoulders (especially inside the church).
Formal
Formal weddings mean that guests should put extra effort into their attire to create and go along with the formal ambience. Men should wear dark suits with a black, grey, blue or white shirt (turned-down collar) and a tasteful tie. Women can wear cocktail dresses (not too short or revealing) or elegant evening dresses that drop to the floor. Some sequins and jewellery is ideal to create a very formal, elegant look. A pair of heels will finish the look (remember to keep them comfortable enough for dancing).
Black Tie
A wedding with a Black Tie dress code requires gents to don a tuxedo and ladies to get their most elegant cocktail dresses on to celebrate the big day. A bit of bling and colour is acceptable to create a more modern, personalised outfit.
Daytime Wedding
Take advantage of the sunshine and (presumably) pretty surrounds by wearing colours, light fabrics and free-flowing designs. Men can wear a lighter suit (grey, beige, etc…) with a coloured shirt and tie, while ladies can feel free to wear a floral dress, a skirt and shirt or a dress suit that is flattering and elegant. If the weather is cool, darker colours are appropriate (although black and navy should still be avoided).
Evening Wedding
Being at night implies being slightly more formal. Generally, men can wear a comfortable dark suit with a tie (jacket optional), while ladies have slightly more freedom. A cocktail dress, stylish pants suit, smart "dinner" outfit or even a more formal floor-length gown would be appropriate.
If you are still unsure of the dress code, ask other guests what they intend to wear, so that you can be sure that you will fit in with at least a group of your peers. Alternatively, it is always better to be slightly overdressed than underdressed, so err on the side of formality.
Photo Credit: bridalcookie.com