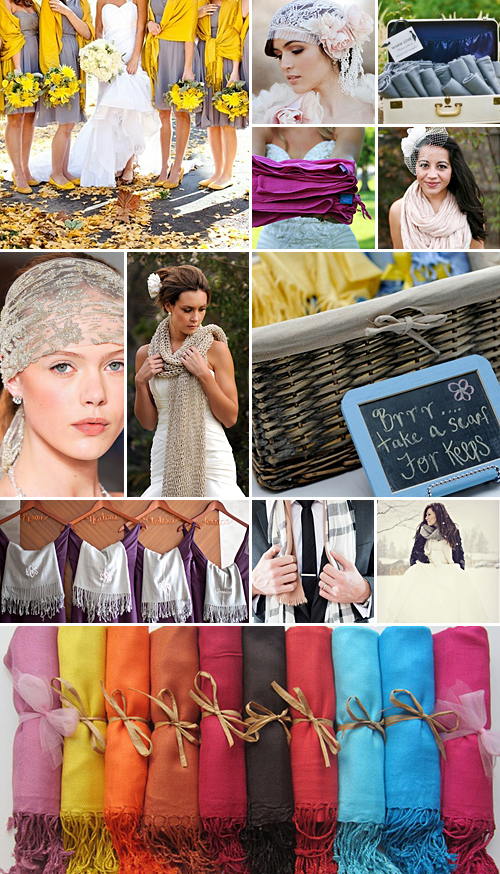 Getting cold feet on your wedding day is one thing, but a cold neck? Out of the question. With summer being the "it" season (subtext: pricey and fully booked), winter is fast becoming an equally popular season for weddings and the scarf is the perfect way to keep all goose bumps strictly emotional.
One can only love the contrast between bare shoulders and a thick chunky scarf! While you might freeze for a little while, it will make for some of the most romantic pictures you'll ever lay eyes on – think bride and groom sharing a moment and a scarf or playing tug of war in the rain.
Whether you're getting married indoors or out, it's bound to get a little chilly and scarves make the perfect addition to any outfit – guest, bride, groom or groom's man! From thick woolly warmers to light cotton scarves, scarves are big news – especially for the guys.
Scarves also make excellent wedding favours, so if you have the budget for it, hand them out upon arrival. If not, reserve the scarf-wearing privileges for your bridal party and any other special guests you'd really like to spoil.
Here are a couple of ideas to warm your heart and neck:
Set up a "fitting station" where guests can try on a variety of scarves and have oodles of fun while the photographer snaps a couple of secret shots.
Choose the scarves to match your colour scheme, or ask your guests to dress all in white so that the scarves provide the splashes of colour.
Drape the scarves over the chair backs or tie the scarf around it. Then, pin each of your guests' place cards to the scarf along with a little thank you note telling them that they can wear and keep the scarves.
Instead of a necklace, opt for an infinity scarf – it's lovely and won't get in our way all the time. Alternatively, wear a scarf that can double as a shawl to keep your shoulders warm when needed.
Don't forget about stylish head scarfs! These lovely embellished scarves immediately add a touch of gypsy glamour to any ensemble, whether it be summer, winter or spring.
For the original photos and their credits plus more Wedding Scarf Inspiration, make sure to check out our Wedding Scarves Pinterest Board!