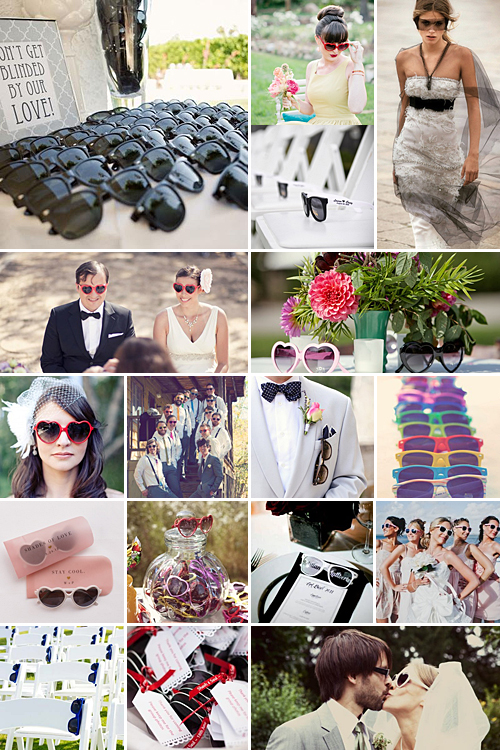 Nothing says "fun, festive and relaxing" like a pair of sunnies, and it's probably one of the most practical trends of the summer season. These babies ooze character and charm, and certainly boost the ego of any groom and bridesmaid. Perfect for outdoor weddings, sunglasses immediately instils a light-hearted ambience and sends the message that this is no traditional wedding. If this is the vibe you're going for at your wedding, here are a few tips for effectively incorporating them into the big day:
If you're planning an outdoor affair, place a pair on each ceremony seat so guests can witness this momentous occasion without the sun in their eyes. These can ultimately be taken home as guest favour.
Tie a tag to each guest's sunglasses with his name and table number written on it – two birds with one stone!
To make it more interactive, set out a variety of frame colours which they can try on in front of the mirror (be sure to have an assistant photographer on hand to capture the fashion fun).
Choose the sunglasses to match your theme. For instance, wear vintage sunnies for a vintage wedding or, if you're going for bright and contemporary, choose colourful frames.
Wear a pair with your wedding dress! While it's not exactly the traditional thing to do, it's guaranteed to make quite a statement.
For a more feminine and quirky approach, choose heart-shaped pretties for the girls in a colour to match or contrast their dresses.
Have your bridesmaids wear sunglasses on their eyes or even in their hair.
Let the groomsmen don a pair of stylish sunglasses for the wedding pictures and ask them to clip it onto their pockets for the ceremony (instead of boutonnieres).
Use a quirky pair of oversized sunglasses or paper sunglass cut-outs in your photo shoot or photo booth for a few guaranteed laughs.
If you don't have the budget to buy sunglasses for the whole guest party, ask them to bring their own – simply pop a request in the invitation under Dress Code.
For more Wedding Sunglasses ideas, the original photos above and their credits, make sure to check our our Wedding Sunglasses Pinterest Board!