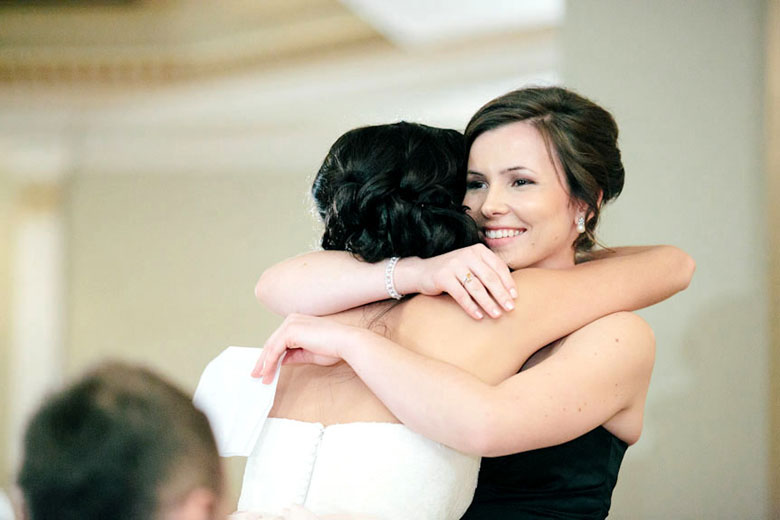 It is likely that you were chosen as bridesmaid after serious consideration on the parts of both the bride and her husband-to-be, perhaps even amidst some family politics. As such, you hold an important place in the mind and heart of the bride, whether you are related or just very close friends. If you are family of the groom, the bride chose to share this special day with you as part of her new family. This is a privilege that not all sisters-in-law have enjoyed, and should be treasured accordingly. This may be particularly special if you and your new sister-in-law-to-be have not yet established a friendship typical of that usually enjoyed between the bride and the maids she chooses. This is an opportunity to establish a meaningful familial bond.
As bridesmaid, you have certain prescribed duties to fulfill before and during the wedding ceremony and reception. These include planning a hen party for the bride, being available to hold the bouquet, straightening the veil, or organising the flowergirls.
More important, though is that you are available as a friend and confidante to the bride. This is an especially stressful time for her, and she needs support, friendship and honest advice more than ever. Being available in this way includes supporting her at all the pre-wedding arrangements, wedding rehearsals, wedding cake tastings, etc…She has the responsibility of having to make major decisions on this, the biggest day of her life, and this can become stressful and overwhelming for her. She needs a trusted companion to agree on the carrot cake, or talk her out of the Oompa Band. Being present at pre-wedding events establishes you as her support structure and allows the two of you to share the experience in its entirety, creating a lifelong bond that will not easily be broken.
Wedding Dress fittings for both you and the bride can become a battle of opinions. Your tastes are not always going to agree, but it is imperative that you remember that this is her day. She wants you to look perfect for her wedding photographs and memories too. So, what she selects is based on her taste. While your opinion is probably highly valued by her, try not to swamp her with negative feedback, even if you are not entirely comfortable with the style or colour she has selected for you. If she has asked for your advice on her dress, she genuinely wants your opinion. However, give it to her fairly and gently and do not criticise it once she has made her choice.
Making an extra effort will mean a lot to the bogged down bride. This can be displayed by keeping a journal of the wedding voyage, and listing the gifts and advice received from friends and family so that she is able to reflect back on these in years to come. Taking this kind of initiative alleviates much of the stress involved in the planning process, and demonstrates your commitment to fulfilling your important role on her wedding day.
Photo Credit: lynismael.com